What is vitiligo and how to enhance it
Everything you need to know about this particular skin condition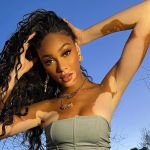 For the uninitiated, vitiligo is an alteration of the melanocytes, the cells that produce melanin. It presents itself as hypopigmentation, meaning that some areas of the skin are less pigmented than others, so they appear lighter, hence the blotchy effect. The reason why the skin starts this process is not yet clear. It is a fairly rare condition, affecting about one in a hundred people and occurring at any age: statistics say it usually appears after the age of 20, but many teenage girls and boys are also diagnosed. For years it was something to hide, but recently it has come out of the closet thanks to strong personalities such as Canadian model Winnie Harlow who, since being spotted by Tyra Banks on America's Next Top Model in 2014, has become a key figure in the transition towards a more inclusive beauty industry, taking the concept of #skinpositivity to a new level. Indeed, she has starred in advertising campaigns for brands such as MAC Cosmetics and has been a constant presence on the catwalk and front row, appearing on dozens of covers, always trying to raise awareness of her dermatological condition, vitiligo.
Her difference is what makes her unique and Winnie realized this quite early on, making it her gateway to success. According to her, it's what all models should do: stand out, break away from the norm. Of course, this also applies to non-models. She is not the only star who has used her popularity to promote acceptance of her own skin, including her flaws. In recent years, many celebrities have used their Instagram accounts to post selfies and videos in which it was clear that their skin was less than perfect. From the singer Lorde to Kendall Jenner, both suffering from acne, from Kim Kardashian West with psoriasis, to Chrissy Teigen and Ashley Graham, who have often laughed at the pimples on their faces, more and more celebrities are choosing to show themselves for who they are, without using filters.
So how do you treat and enhance vitiligo to show off your splendid uniqueness? First of all, always use sunscreen, as the lighter patches of skin are particularly sensitive to light, increasing the likelihood of skin cancer. Understanding how to make the most of vitiligo also means learning how not to hide it: forget about camouflage make-up (including foundation) and opt for a completely natural face base. Your best ally is undoubtedly your skincare: in addition to SPF, vitiligo only needs the best skincare products to boost the glow factor. The only concession for creating a face make-up that is truly capable of highlighting the contrasts created by vitiligo is a hint of concealer to eliminate dark circles: nothing should distract attention from the color games created by the less pigmented areas of the face, with red lipstick and lots of mascara.
With this in mind, Make Up For Ever, a partner of the French Association for Vitiligo (Association Française du Vitiligo), has launched the Unveil Your Beauty campaign to promote a type of make-up that does not cover but enhances the particularities of each face. In their Academy, it is possible to attend master classes entirely dedicated to people with vitiligo who, with the help of the brand's make-up artists, can learn simple techniques to enhance their features and sublimate their beauty. Make-up to regain self-esteem and learn to love their own particularities.