I 5 beauty look da copiare alla New York Fashion Week
Le grandi ispirazioni per capelli e trucco che andranno di moda il prossimo autunno ma che potete già sperimentare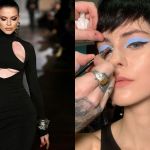 New York Fashion Week, an occasion in which designers presented their autumn-winter 2022-23 creations, saw a reinterpretation of Nineties fashion with eccentric touches taken from the closet of purely Eighties fashion. Black is worn but with a sprinkling of rhinestones, white tights are back in fashion, shoulder straps are oversized, and there is a special attention to garments with cut out details. There is no shortage of flashy jewelry, colorful bags and bold color block combinations. On the beauty side, minimalism has conquered an increasingly contemporary aesthetic, which draws from the past, directly from the trousseau of Paris Hilton and Nicole Richie, but looking to the future now cleared by the TV series Euphoria. Summing up, here are the five beauty looks to try now without waiting for next September, the season in which these make-up and hair will become a must.
Blue in all its shades
Christian Siriano made us fall in love with blue again, thanks to powdery brush strokes on the entire eyelid and swirl manicures combined with the typical rounded and medium-long shape of ballerina nails. A passion, that of blue, which has also infected Kim Shui, Dion Lee and Dur Doux.
The mermaid looK
Altuzarra's is a prime example. Naturally wavy hair fixed as if with salt water, slightly smudged eyes to recreate the effect that the eyeshadow of those who live under water might have. The more grunge version by Coach is also beautiful, opting for perfect mermaid waves combined with natural skin, almost deliberately crumpled. And if you want to emulate a more daring make-up, the answer comes from Michael Kors Collection.
The regal skin
That of the Regency complexion is a beautiful story. It draws inspiration from the TV series Bridgerton - from March with its second season on Netflix - creating romantic champagne shades on the eyes and illuminating the skin in a glowy way. All complemented by a touch of color, the same, on cheeks and lips. Carolina Herrera, Proenza Schouler and Bronx and Banco are the references to rely on.
A twist braid
Made up of just two strands - remember Twister ice cream? - this braid is beautiful to wear from morning to night. Create a clean hairdo, which sings the TikTok trend of clean beauty - fix a high tail with an elastic, divide the hair into two parts and roll it up, until fixing the lengths with a second elastic. Beautiful ones by Carolina Herrera, paired with XXL gold jewelry. If you want an extra idea, wrap it with a colorful scarf, as PatBo did.
Scratchy nails
Forget about manicured, nude nails. Rather go back to bewitching with a flashy manicure. The shapes are XXL, like the ballerina but also the almond nail. Have fun creating your own style even through a manicure, black with rhinestones like the one by Alice+Olivia, or lacquered in red like the one by LaQuan Smith, or even the swirl manicure worn on the catwalk by Christian Siriano and the very long ballerina nails by Bronx and Banco.