Le heart nails più belle per San Valentino
Una tendenza molto specifica, quella del 14 febbraio, divisa in tre micro-trend di unghie con i cuori tra cui scegliere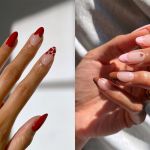 A special manicure to wear on the day of the year dedicated to love, in whatever form it manifests itself. And the feast of Valentine's Day, in addition to precious rings, bouquets of flowers and boxes of chocolates, now has as its identifying symbol - but do not call it a cliché - the nails with little hearts drawn. Everyone loves to have a small (or bigger) detail on the nails inspired by the art of heart sharped, nice to wear always and not only on the occasion of February 14. In fact, it's no coincidence that the Instagram profiles of the most famous manicurists, such as Betina Goldstein and Tom Bachik, have presented their various creations in recent weeks. And although the theme is always the heart, we've collected three micro-trends to inspire you, depending on your personality. From red to pink passing through the more cartoony, remember to give your nail art that extra touch, cream-colored or pastel tones, even with a generous sprinkling of glitter, to describe at its best the nuances of your love. Here the best of nails to celebrate your V-Day.
Barbie love girl
The watchword is pink. Recreate on your nails a Malibu style, with pink bubblegum flashes, also opt for glitter and illusion games.
A big or small heart
Strictly in red, the quintessential color of love or passion. Whether you love more a minimal style or one more daring, here are the beautiful creations more classic proposed this year on Instagram.

Manga heart style

Stickers with the words love, many pastel hearts, red lacquered mouths and bears as a gesture of tender love. If you want to express a love as unconventional as your personality, here are some nail art "out of the ordinary" to experiment.