nss G-Club's August 2022 horoscope
Discover your monthly vibes and what's the perfect travel destination for your zodiac sign
Summer is coming to an end, but the vibes are in high spirits with this Leo season just beginning. The month's transits foresee a literally fiery season that speaks of all-around passion.From August 4, Mercury, the planet of communication, enters Virgo and magically all thoughts have their own precise meaning, a clearer direction. Venus, on the other hand, from the 11th greets Cancer to enter Leo, and ignites the love sphere.On the 12th a Full Moon in Aquarius will shine in the sky, letting us know that changes are just around the corner. On the 20th Mars enters Gemini making the last ten days of the month lighthearted and sparkling. But not only that, on the 23rd the Sun enters the sign of Virgo ushering in a super Virgo Season, ready? On August 26 Mercury enters Libra helping us find more balance in communication, and on the 27th the New Moon in Virgo spurs us to start a new course of things. What does the sky have planned for your sign for the month and what is the perfect destination for your zodiac sign?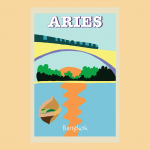 During this month you will feel unstoppable dear Aries. The fiery Leo Season vibes you always love because they bring out the best of your qualities. In addition, the beautiful Venus position starting on the 11th will allow you to have one of the most important months of your entire 2022. Fun, romance, friendship and creativity will be the four major themes of August. For those in love, there will be a chance to take the relationship to the next step. For listening singles, on the other hand, it's a great time for new encounters that will soon prove to be dazzling lightning strikes. Enjoy one of the hottest months of the year.
Magical moment: August 15, you'll experience the hottest August Ferragosto ever.
Destination of the month: live life with adrenaline as a stay in chaotic Bangkok
HOTNESS: ⭐⭐⭐⭐
LOVE: ⭐⭐⭐⭐⭐
LUCK: ⭐⭐⭐⭐
Dear Taurus, August is off to a bit of a slow start but soon things will change. Because while it is true that this month makes you melancholy and nostalgic for something that even you cannot understand, from the second half the music changes with the entry of the Sun in the sign of Virgo. Very intense will be the day of the 12th with the Full Moon in Aquarius, listen to what your heart and belly tell you and trust your instincts. From the 23rd, then, with the onset of the Virgo season you will feel less lost and more grounded in the everyday, a feeling you enjoy so much. Important day on the 27th: an exciting new beginning is just around the corner.
Magical moment: Aug. 18, the perfect day to fall in love
Goal of the month: nothing relaxes you like a trip to the land of Lavender
HOTNESS: ⭐⭐⭐⭐
LOVE: ⭐⭐⭐
LUCK: ⭐⭐⭐⭐
Dear Gemini, you like to have fun, and again this year you didn't miss anything at all. If we talk about love, it was one of the lightest summers of your life: flirting on the agenda, hot moments and very interesting adventures. Of course, if we talk about going deeper into relationships there is something holding you back. It may be that committing yourself and giving others expectations of you blocks you and, therefore, you end up preferring more superficial and momentary relationships. There is nothing wrong with that, just don't impose limits on yourself for fear of experiencing your emotions!
Magic moment: Aug. 21, an extra time to party
Goal of the month: You will experience August with the same freedom that riding a wave in the middle of the ocean in Fuerteventura causes you
HOTNESS: ⭐⭐⭐⭐⭐
LOVE: ⭐⭐
LUCK: ⭐⭐⭐⭐
Everything finally appears clearer dear Cancer. Your season has been a rollercoaster of emotions: more words, more understanding, and even more emotions have led you at times to feel confused and not knowing what really you. Thanks to Mercury's transit in Virgo on August 4, however, you will feel much more decisive and your thoughts will be crystal clear for you as well. The month of August will speak positively to you about work, money and creativity. But not only that, friendship from the end of the month will also take center stage, helping you to understand much more about yourself as well.
Magic moment: Aug. 23, the time for a heart-to-heart talk
Goal of the month: Sometimes getting lost in tangled alleys is necessary to find yourself, just like on the island of Santorini
HOTNESS: ⭐⭐⭐
LOVE: ⭐⭐⭐⭐
LUCK: ⭐⭐⭐⭐
How you love being in your season dear Leo! Passion, strong emotions and all the attention on you. Enjoy this moment that from the 23rd, with the Sun's entry into Virgo the music changes. Interesting for love is the period starting from the 11th with Venus in your sign: finally feelings speak your language and you feel able to express what you feel and experience everything that happens to you with more love and interest. It will be a very positive and eventful month; you will be able to understand much more about yourself through fun and to adventures you will remember forever.
Magical moment: August 25, in preparation for an important new beginning.
Goal of the month: No place can bring together romance, fun and lightheartedness like Barcelona
HOTNESS: ⭐⭐⭐⭐⭐
LOVE: ⭐⭐⭐⭐⭐
LUCK: ⭐⭐⭐⭐⭐
Happy Birthday Dear Virgo! From the 23rd the sun enters your sign ushering in a super Virgo season. And it is at this time that your social side comes out and joins your organizational side: more dinners, dates and special events for you and your friends. August has an important goal for you dear Virgo, be more selfish. Obviously you should not treat others badly and push them away (I can see you already), but you should try to think more about yourself and your needs. After all, from the end of the month your birthday starts, if you demand a little more no one will turn their nose up at you. Take time for yourself and to focus on your personal pleasure by doing only what you enjoy and feels good about
Magic moment: Aug. 27, embrace a new you
Goal of the month: No place brings out the romance in you but Paris
HOTNESS: ⭐⭐⭐⭐⭐
LOVE: ⭐⭐⭐⭐⭐
LUCK: ⭐⭐⭐⭐⭐
Dear Libra, it's time to focus on your personal career. During the past few months you may have put your ambitions on the back burner by prioritizing other things. The position of Venus (your planet of the heart) puts the very focus on the hard work you will have to do to feel good again in your work sphere. But not only that, Venus in Leo also brings a great desire to party and meet new people--whether it's time to fall in love? With the start of the Virgo Season from the 23rd, however, a more introspective phase will begin for you that will culminate in mid-September, just as the Sun enters your sign.
Magical moment: Aug. 30, decisions are made to be made
Goal of the month: Bali is your place to be: peace, balance and spirituality
HOTNESS: ⭐⭐⭐⭐
LOVE: ⭐⭐⭐⭐
LUCK: ⭐⭐⭐
Great month of change dear Scorpio. The August stars are spurring you to discover new sides of you and, slowly, to abandon some characteristics that are no longer part of you. This will be a slow and long-lasting process that will reach its peak in late October, just as the Sun enters your sign.It is a month that needs more relaxation, with Mars opposition you may feel tired and easily irritable, we warned you!Interesting day between August 11 and 12 with a very bright Full Moon in Aquarius: it will be a time full of excitement and twists and turns.
Magical moment: Aug. 5, dedicate a day of wellness
Goal of the month: You need strong emotions to live, just like standing on top of Machu Picchu
HOTNESS: ⭐⭐⭐
LOVE: ⭐⭐⭐⭐
LUCK: ⭐⭐⭐⭐
Sag baby, Mars in troublesome aspect brings fatigue and discontent in the first part of the month. Some situations could prove to be very stressful, so much so that they could affect your mood even during the long-awaited vacations. To prevent this from happening try to devote yourself to what makes you feel better in the world, it is Venus that suggests it! In fact, the planet of love from the 11th will be in a beautiful position and will bring positive situations into your life that make your heart beat faster: new hobbies, new passions, and new loves. May this be the time you will let go of limitless love?
Magic moment: Aug. 7, plan a special day
Goal of the month: Everything you need is on the streets of Marrakech
HOTNESS: ⭐⭐⭐⭐⭐
LOVE: ⭐⭐⭐⭐⭐
LUCK: ⭐⭐⭐