The "Dolce Vita" aesthetic according to the Kardashians
Among references to "The Leopard" and Dolce and Gabbana archival pieces at Kourtney and Travis Barkers' wedding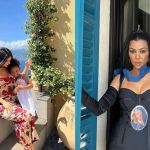 After the wedding celebrated by an Elvis impersonator in Las Vegas, just after last April's Grammy Awards night, and the ceremony at the Santa Barbara courthouse in front of their parents, Kourtney Kardashian and Travis Barker chose Portofino for a grand wedding. From Friday to Sunday's big event, three days of love, luxury and family were staged on the Ligurian Riviera, in which the couple's gothic glam aesthetic and the Kardashian-Jenner clan's characteristic oligarch-chic touch met the Sicilian tradition of Dolce & Gabbana. The result? A memory album (by Ellen Von Unwerth) that looks like an exaggerated and somewhat kitschy reboot of The Leopard with a soundtrack by Andrea Bocelli, in which Kourtney and Travis are just mere appearances drowned out by a riot of madonnas, roses, animal prints, crosses.
The entire Kardashian-Jenner family landed in Italy on Friday, immediately monopolizing the attention of locals, tourists and paparazzi, intrigued by this host of celebrities. Kim and her sisters recreated a real Dolce & Gabbana show between the welcome dinners, rehearsal dinners, rounds in the piazzetta and ice creams, Kim and her sisters recreated a real Dolce & Gabbana show. Upon their arrival both Kendall, hand in hand with boyfriend Devin Booker, and Kylie, who stepped off the boat with Stormi, brought a breath of glam and spring. Flowers for both. The model accessorized a blazer and maxi skirt with a small brown handbag, a gold pendant necklace, black sunglasses and red lipstick; while the founder of Kylie Cosmetics wore a bodycon dress, flat slippers, rectangular rattan handbag, white-rimmed sunglasses and red lips. Khloé arrived at the port in a brown cut-out dress, high suede boots and super fluffy hair. Here Kim joined her in a black sheer dress, illuminated by two silver crosses around her neck.
At the Puny Restaurant in Portofino, the bride-to-be wore a strapless red dress with a sheer skirt and matching see-through lingerie, completing the look with a fur stole in the same shade, red heels and no jewelry except her engagement ring; while Travis, as for the rest of the days, opted for total black. Kim, on the other hand, sported a vintage set from the spring/summer anthracite grey collection consisting of a criss-cross top and leggings; Kylie paired a fitted LBD from 2001 with matchy-matchy knee-high biker boots with a small black and white bowling bag; Kendall opted for a romantic black bustier dress with a sheer skirt accessorized with a choker embellished with a large red cross; while Khloe showed up in a tight leopard print bustier dress from the Fall/Winter 1997 collection and large gold cross earrings. Finally, mother Kris chose a black midi dress with lace, a rattan handbag, ankle strap sandals and statement earrings.
If for an early morning walk with daughter North and Kourtney's daughter Penelope, Kim opted for a grey bustier and straight-leg trousers, for Saturday's pre-wedding lunch she opted for a black sheer dress, illuminated by two silver crosses around her neck. Definitely more dramatic was Kourtney's look, who showed up in an ultra-mini bustier dress from 1988 with an image of a Madonna on it and a touch of electric blue picked up by the edge of the black veil she wore on her head and eye shadow. The final touch to the outfit? The opera gloves.
The wedding day was also all by Dolce & Gabbana (so much so that, according to Stylight, searches for the brand's garments have increased +24% since the Kardashians' arrival in Portofino), from the outfits of the bride and groom and most of the guests to the location, Villa Olivetta, Domenico Dolce and Stefano Gabbana's Mediterranean home. At an altar decorated like a baroque church, with gold, roses and religious iconography, Kourtney and Travis exchanged vows. He in double-breasted black, she in a lace and satin mini-dress inspired by 1960s Italian lingerie, accompanied by a wide veil on which were hand-embroidered flowers inspired by a Mediterranean garden and a depiction of the Virgin Mary based on one of Barker's tattoos. The dramatic headdress read 'family, loyalty, respect'. A further touch of drama to the whole look was provided by the tulle gloves and lace pumps. Kendall and Kylie once again appeared at the event in matching outfits: two floral bodycon dresses from Dolce & Gabbana's autumn/winter 1998 collection. A riot of Mediterranean glam-goth, on the other hand, for Kim and Khloe.