Kim Kardashian breaks silence amid Balenciaga controversy
Will this be the end of Kim's partnership with the brand?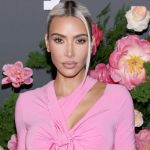 Despite her role as brand ambassador, Kim Kardashian succumbed to pressure from fans to publicly expose herself and condemned Balenciaga for its latest controversial campaign, titled Balenciaga Objects. The Skims founder issued a press release via her Twitter profile declaring herself "shaken" by the "disturbing images" that featured children clutching teddy bear bags with BDSM harnesses in their arms and, in addition, one shot contained court documents referencing Supreme Court cases on child pornography:
"I have been quiet for the past few days, not because I haven't been disgusted and outraged by the recent Balenciaga campaigns, but because I wanted an opportunity to speak to their team to understand for myself how this could have happened. As a mother of four, I have been shaken by the disturbing images. The safety of children must be held with the highest regard and any attempts to normalize child abuse of any kind should have no place in our society — period."
She then said that she appreciated the removal of the campaigns and Balenciaga's apology and that in speaking with them, she is confident that the brand team understands the seriousness of the problem and will take the necessary steps to ensure that this never happens again. Kim also added that she is "currently reevaluating my relationship with the brand," saying that it will ultimately depend on Balenciaga's "willingness to accept accountability for something that should have never happened to begin with — & the actions I am expecting to see them take to protect children."
Many wonder if this will mark the end of Kim and Balenciaga's partnership. Kardashian's statements leave room for uncertainty. In the past year, since her divorce from Kanye West, the businesswoman's relationship, which began thanks to her ex-husband, has intensified, and Demna Gvasalia's creations have greatly helped shape Kim's image and style in her new life without Ye. The Maison's super tight, glamorous, and dramatic garments have had somewhat the same effect for her as Versace revenge dress had for Lady Diana after her exit from the royal family. Although Kim also wears other brands, such as Dolce & Gabbana with whom she collaborated for the SS23 fashion show, it is hard to imagine her disowning the brand behind what is undoubtedly her golden period in style. As she said, it will all depend on the behavior of Balenciaga, which promptly posted a Story apologizing for the campaign and said it is taking legal action "against the parties responsible for creating the set and including unapproved items for our spring 23 campaign photoshoot." According to the Post, it is a $25 million lawsuit against production company North Six, Inc. and set designer Nicholas Des Jardins for the use of Supreme Court-related legal documents in the campaign.