5 sustainable fashion initiatives to discover
From Reformation's traceable jeans to Stella McCartney's "mushroom skin" clothes
Sustainability is the new feature that all brands can no longer be without. From Stella McCartney to H&M, from Reformation to Hermès, which announced a new version of its Victoria bag made with vegan mushroom-based leather, luxury companies and young start-ups are looking for innovative green materials and new technologies that show their commitment to eco-conscious and circular fashion. Each week the offerings are enriched with interesting projects that help make our closet more environmentally friendly and relieve our compulsive shopping guilt.
Here are 5 recent sustainable fashion projects to know about.
Stella McCartney's "mushroom skin" clothes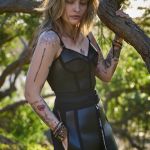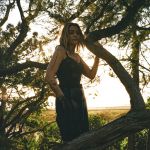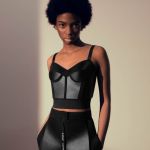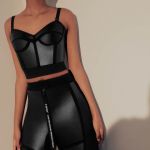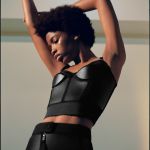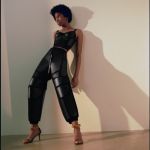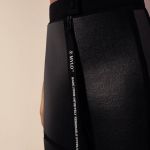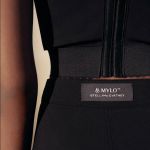 A lifelong vegan, Stella McCartney has never used animal skins or furs in any of her creations and is always searching for new eco-friendly materials to experiment with and include in her collections. The latest is called Mylo, developed in collaboration with the company Bolt Threads and is a certified organic alternative to leather, obtained from the mycelium contained in the roots of mushrooms. Scientists have discovered how to reproduce what happens under the forest floor, where the mycelium grows best, thus obtaining a special combination of soil, water, and air that is soft, malleable, and well suited for the creation of clothing. The benefits? Unlike synthetic leathers, Mylo has a minimal environmental impact, does not use petroleum, and is made from substances that are totally renewable and found in nature. After a special version of the Falabella bag, the first prototype garments (not yet for sale) made in Mylo by hand in the Stella McCartney atelier in London are a black bustier top and cargo pants, made by layering scraps of this mushroom skin over a layer of recycled neoprene nylon.
The Science Story Collection by H&M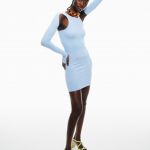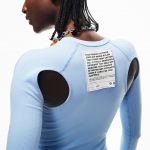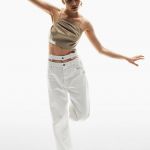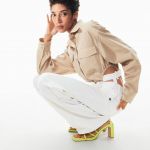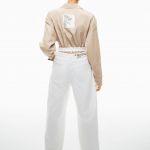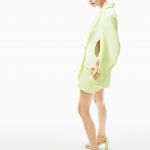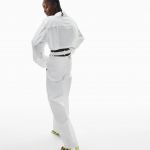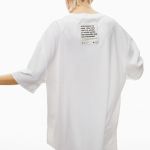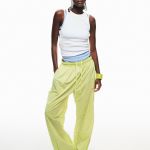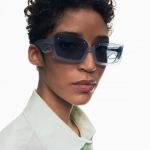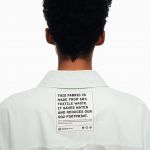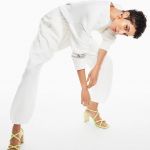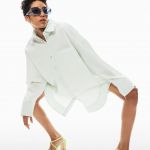 H&M has just unveiled Science Story, a new eco-friendly capsule collection that is part of the sustainable Innovation Stories project, which will run through 2021 producing various apparel with innovative and environmentally friendly processes. The pieces in this first collection are contemporary essentials made from new green materials such as EVO by Fulgar®, a bio-based yarn derived from castor oil, and Desserto, a plant-based alternative to leather, produced from cactus plants. Looking through the offering, available online from March 18, you can pick from wide-leg white jeans with a removable double waistband, lightly-cropped chalk-white shirts with oversized pockets, and cuffed tracksuits. Accessories feature eye-catching colors and designs such as green strappy high-heeled sandals, blue recycled plastic sunglasses with double lens frames or chunky necklaces and earrings consisting of orange circles and rhinestone details. Each piece comes with a maxi label showing its manufacturing process and origin.
Traceable jeans by Reformation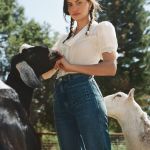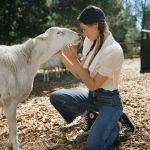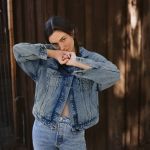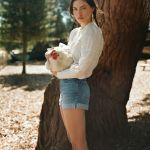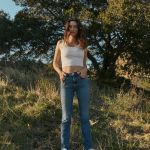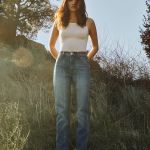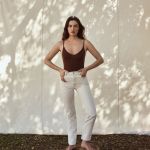 It's no longer enough for brands to claim to be sustainable. Now consumers want proof, which is why traceability is the new frontier of green fashion. This is confirmed by the new line of jeans from Reformation, the Los Angeles-based company that since its inception has focused on reducing waste, promoting conscious consumption, and aims to become fully sustainable by 2025. In order to provide more visibility into its supply chain and rigorously maintained manufacturing standards, the brand has joined forces with FibreTrace, a technology developed by husband and wife Danielle and David Statham which integrates traceable and scannable pigments directly into the fabric. All you have to do is scan the tag of one of the new denim items with your smartphone to follow the entire virtual blockchain "Farm to butt": from the cotton farm (which, in this case, is Good Earth Cotton, the first climate positivity farm in Australia) to production, from the finishing stages to the legs of the wearer.
The selection of pieces created by Reformation with FibreTrace is available online and includes nine pairs of jeans, two pairs of shorts and a jacket, with prices ranging from 90 to 160 euros.
The SS21 collection by OhSevenDays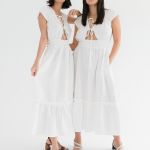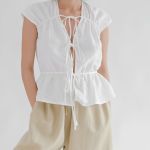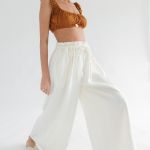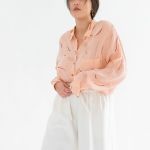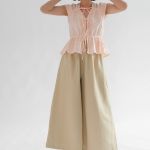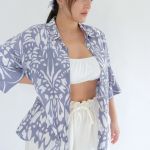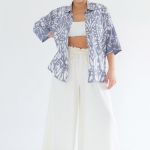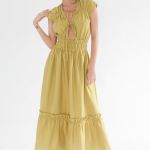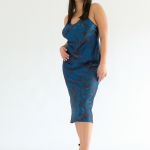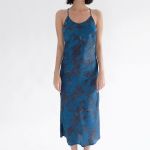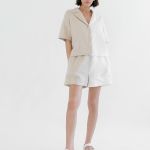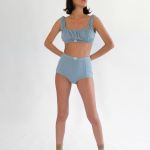 OhSevenDays is a brand founded in 2015 by Australian-Canadian designer Megan Mummery, who is based in Istanbul, one of the largest textile cities in the world. The idea at the core of the project was, as the name reveals, to create sustainable and ethical items that could be worn comfortably from Monday to Sunday, suggesting a sense of circularity that is also reflected in the production model. Each garment, in fact, is made (in limited edition) from discarded fabrics, unused due to small defects and stains or surplus from excessive orders. The spring-summer 2021 collection of OhSevenDays available online also follows this concept of circular fashion and presents a selection of mix n' match underwear, printed shirts in vegan silk inspired by the Bauhaus movement and pieces in color block linen.
The "GANNI Kiosk" accessories collection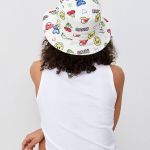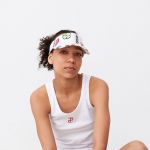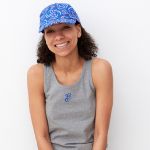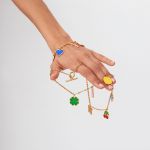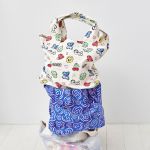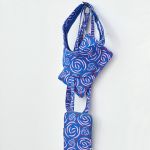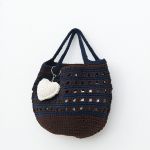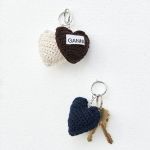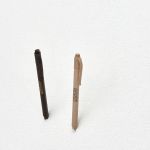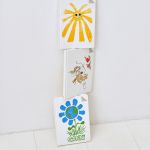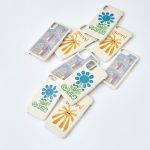 Inspired by local Danish bazaars, GANNI has introduced GANNI Kiosk, a fun and colorful collection of upcycled merchandise. Creative director Ditte Reffstrup has created an eclectic lineup of accessories ranging from phone cases created using the byproducts of locally grown flax plants to stationery made from recycled stone paper, from socks and underwear sets made from discarded organic cotton fabrics to biodegradable cases to scrunchies, from bucket hats to crochet bags, from bracelets filled with multicolored charms to key chains. You can find the collection on GANNI's website.