The right skin care for different skin types in autumn/winter
Tips for adapting your beauty routine to the cold seasons
The needs of our skin change with the seasons. When the temperatures drop, just as with our clothes, we should change the contents of our bathroom cupboard of creams and face lotions to suit the needs of the coming months. The one item that should remain unchanged? The SPF. It's essential because even in winter, the sun's UV rays are just as damaging as in the warmer seasons. Cold, wind, rain and snow can test the health of the skin barrier and promote dryness, itchiness, flaking and redness. Chapped lips, red noses and dry patches are the result, and many of us lack radiance as our summer tans fade. That's why it's best to swap out your minimal summer routine with a few products with light, watery or gel textures for creams, boosters and serums with brightening, antioxidant and restorative properties. The buzzword for skincare in autumn/winter? Hydration.
For the body, there's a green light for full-bodied and nourishing mousses, balms and oils applied liberally after every shower or bath, preferably with argan, honey, shea butter, jojoba oil, but also coconut and neem. For the face, the beauty routine is more complex and focused on adding moisturising ingredients and nourishing products to help our skin transition into winter. Which are Retinol, hyaluronic acid, peptides and collagen. Vitamin C also plays an important role, helping to brighten and strengthen the skin by stimulating collagen production so it can better retain moisture and protect against external aggressors. Alternating textures are key. Depending on skin type and desired effect, such as anti-ageing or brightening, we need to add more nourishing and rich day and night face creams to our shopping list to thicken and restore skin tone. Think of them as the equivalent of our winter skincare coat. Each product focuses on hydrating and soothing, calming. A chemical but gentle exfoliant will help treat tight, flaky skin and improve moisture retention. If you've been using a foaming or abrasive cleanser all summer, now's the time to switch to a cream or oil-based formula. What's next We need a good serum that meets our needs, but also face masks, scrubs and eye contouring. In short, skincare should be based on the seasons and the needs of our skin. Here are some tips for autumn/winter skincare that we should follow depending on our skin type.
Dry skin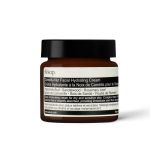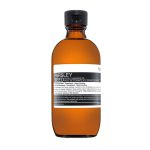 We recognise it by a sallow complexion and rough or flaky patches on the face. It needs moisture and a soothing effect at the same time. The best elements? Glycolic acid, shea butter and glycerin, which help whether the dryness is due to genetics, hormonal changes or external factors like weather changes. It's important to moisturise twice a day, preferably within 10 minutes of washing your face, so that pores are still open and products can penetrate deeper. Let's rely on products specifically designed to treat dry skin, such as Aesop's gentle, aloe-based Parsley Seed Facial Cleansing Oil. For a cream, let's try Aesop's Perfect Facial Hydrating Cream, a luscious cream that contains a generous dose of vitamins C and E, as well as essential butters and oils that nourish and plump the skin. For a moisture boost, we can also use Aesop's Parsley Seed Anti-Oxidant Intense Serum, a powerful antioxidant serum that strengthens and hydrates the skin and creates a thin barrier that protects the skin from pollutants.
Combination skin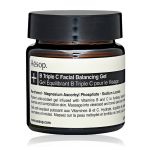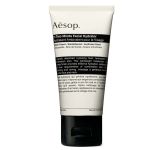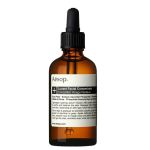 Combination skin is usually characterised by a shiny T-zone with some impurities, while the other areas of the face are normal or dry. Therefore, it is important to remove excess sebum and impurities to rebalance the skin while moisturising where it is lacking. The best allies? Any product that moisturises and rebalances the skin's hydrolipidic film. Try Aesop's B Triple C Facial Balancing Gel, a formulation that lightly moisturises with vitamins B and C to nourish, soften and balance the skin's appearance. Next, add Aesop's In Two Minds Facial Hydrator, which contains witch hazel, sandalwood and iroba seeds and has a matte finish ideal for combination skin. Finally, add Aesop's Lucent Facial Concentrate, a lightweight, vitamin C-enriched serum.
Oily skin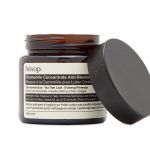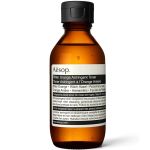 Sebum makes for oily skin, especially around the nose, forehead and chin. Its texture is uneven and it is often prone to blackheads, pimples and blemishes. Toner masks like Aesop's Chamomile Concentrate Anti-Blemish Masque can help at least once a week, as can a light moisturiser that won't clog pores and make things worse. Also make sure you don't over cleanse. Prefer balancing, gentle products and use cleansers with salicylic acid. A deep-cleansing mask to clear congestion and a clear gel for targeted application, such as Aesop's Blemish Control Duo, can help. As can Aesop's Bitter Orange Astringent Toner, whose citrus-based formula doesn't dry out the skin, ridding it of sweat and dirt with a soothing and cleansing action.
Sensitive skin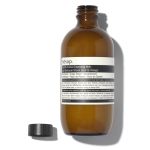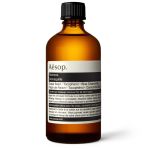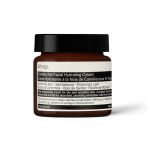 Is inflammation and redness a daily occurrence, causing irritation, dryness and sensitivity? Then your ideal skincare routine should be based on gentle, moisturising cleansers, soothing and anti-inflammatory formulations. Try Aesop's Gentle Facial Cleansing Milk, an extra- gentle daily cleanser enriched with plant extracts known for their soothing properties; Aesop's Remove, an oil-based make-up remover specially formulated for sensitive skin around the eyes; and Aesop's Camellia Nut Facial Hydrating Cream for your evening routine.