How to manage your period in summer
Little tips to deal with menstrual-related discomfort and prevent it from ruining our holiday
Menstruation is normal, but there is certainly still one person who finds their period enjoyable. Especially in the summer. When it comes perhaps during the only week of holiday we have available, when we would most like to be comfortable, and causes us a certain amount of discomfort, exhaustion and pain, we certainly don't feel like cheering with happiness. So the discomfort tends to increase during the hot months, reducing the energy we would have wanted to spend on long swimming trips, museum tours and mountain hikes. Not to mention the tampon, which tends to irritate when in contact with sweaty skin. So what can we do? Let's arm ourselves with patience and always travel armed with tampons, pads or menstrual cups, painkillers, breathable briefs and clothing, water and read on. This may not take away the discomfort and cramps, but knowing how to deal with the cycle in summer and how it is affected during these months can help. On the other hand, knowledge sets you free, doesn't it?
How summer and hot weather can affect the cycle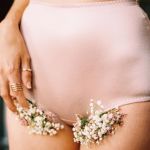 Many experts point out that there are many external factors that can change the menstrual cycle. Among the factors that have the greatest impact in summer are changes in routine, diet, lack of sleep due to changes in evening routine, different light and dark times, temperature fluctuations and, most importantly, the heat. Due to these factors, menstruation can occur more frequently and irregularly and be accompanied by more physical pain than usual. The cause of dysmenorrhoea is an increase in the level of prolactin. When the level of this hormone rises, ovulation is disrupted and the cycle is less punctual and much more pronounced. The fact that heat dilates blood vessels and increases the flow rate of menstrual flow also has an effect, while venous congestion causes pain. In addition, the drastic diets, often combined with intense physical training, that many women do to prepare for the "dress rehearsal" can alter the amount of lean mass, which, if not properly balanced, will alter the cycle and affect overall health and normal hormone balance.
How to find relief from a heavy or irregular cycle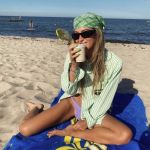 The first advice a doctor gives in this case, besides an examination, is to stop the behaviours that caused the problem, such as an improvised diet or more physical activity than usual. So on cycle days, you should not hold back at the table or in other areas and only do what you feel like doing. If you want to sleep, go for a walk, swim, eat dessert or grill fish, do so calmly and without guilt. Rather, eat small things that help replenish the iron loss caused by heavy menstruation that affects feelings of exhaustion, such as legumes, oily fish, eggs, soybeans and dried fruit. Excellent allies, in this case, are also magnesium and potassium supplements or natural remedies such as the chasteberry. Sodium and potassium, in fact, help reduce bloating, and magnesium helps relieve menstrual pain and can also help manage menstrual anxiety. One last piece of advice? Drink plenty of water, even if you feel bloated. Dehydration can make headaches, water retention/ bloating, constipation and fatigue worse, so drink plenty.
Which device is best to use for summer menstruation?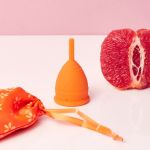 Every woman knows what support is best for herself and for the occasion. So the advice is to keep it that way. However, it can happen that the classic tampon sticks to the skin in hot weather, causing sweat and friction, which irritates the area around the vulva. In this case, it is better to opt for organic cotton tampons, which are much less irritating, or to use internal pads, which are also useful for days at the beach, between bikinis and swimming. Other good alternatives are menstrual swimming costumes, which have an absorbent layer that allows you to retain blood for several hours, and the menstrual cup. If you choose the latter and have never used it before, it's best to try it out at home before you go on holiday.