Off-White beauty marks its imprint
Paperwork, the brand's new beauty line, is expanded with nail polishes and pigments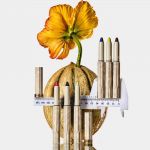 After months of waiting, on 20 April Paperwork, the new beauty line from Off-White, debuted exclusively on the brand's website and on Farfetch.com. Previewed at the Paris Fashion Week Fall/Winter 2022 show, the project was developed by Virgil Abloh as a tool kit that inspires endless creativity and allows for personal interpretations of the concept of beauty. The first drop included Decode, a white nail polish with a self-cracking formula; Template, stencils for "tagging" the face and body; but the real stars were the Solutions fragrances, a selection of unnamed Olfactive IDs numbered from 1 to 4, designed to offer the wearer an entirely customizable experience that was different from conventional beauty.
The collection was expanded with some new make-up products. The first are the Color Matter nail polishes offering different finishes, including opaque pigments, multi-colored glitter and crackle effects, which can be layered to transform the nails into an extension of one's look. Then there are the Imprint solid pigments, a series of creamy, water and smudge-resistant color sticks. What makes them special is not only their high-tech formula, but above all their versatility. All six Imprint shades are perfect for use indiscriminately on eyes, lips, cheeks, face or wherever creativity suggests.
Each Paperwork item, from fragrances to nail polishes, is enclosed in packaging with an industrial touch that pays homage to Abloh's background and at the same time suggests the idea of make-up as a work in progress, of a beauty that coincides with play, the desire to experiment and freedom of expression, without limits of race, gender or size.