Astrology apps to download in 2022
How to know better your zodiac sign and birth chart with Co – Star alternatives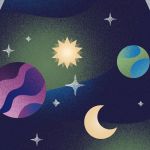 Astrology is one of the topics that many people in Gen Z and beyond are passionate about. Birth chart, Mercury Retrograde, Ascendant and Moon phases are terms that almost - but not all - have mastered and know. Thanks also to the numerous videos and trends on TikTok, Instagram profiles and new and interesting apps, it's possible to discover more and more about one's astrological profile, but while on social networks we scroll through astrological-themed content learning about the characteristics of signs or delving into our own chart without a common thread that is tailored to our needs, astrology apps are a perfect tool for a self-centered approach to the world of astrology, all to be discovered according to the various and multiple possibilities available, even for newbies. Depending on the different functionalities, some apps touch more deeply on the aspects of one's natal chart, others compare them with those of friends and community members to understand and find affinities. Here then are the Horoscopes to have in your smartphone that are not Co Star?
Here are the 8 apps to download if stars are your passion.
Chani
Created by the astrologer Chani Nicholas became famous thanks to TikTok this app is very complete and easy to use. Some features that we can find inside are birth chart analysis, transits of the week, mantras to repeat and guided meditations. Most of the app is paid, but the free part is very interesting!
Time Passages
Maybe not very aesthetic, but Time Passages is one of the best astrology apps around. Complete, precise and, above all, reliable. In the free version you can find your birtchart and its analysis, horoscope of the general day and based on each transit and aspect that forms according to your birth chart (very interesting) and a "learn" section with definitions of some astrological terms. This is a must have and consult daily!
Orion
Also available in Italian, Orion is a horoscope app that is depopulating on TikTok. No birthcart, but simply reading your horoscope of the day, week, month and year according to your zodiac sign. The cute aspect of this app is that it offers several cues like the compatibility between signs, moon phase, the advice of the day and the monthly calendar with marked important dates and to keep an eye on. It also has a series of nice and light items on all the features of the zodiac signs, clichés included!
Moonly
If you want to know more about the Moon and the influence it has on you then this is the perfect app! Moonly is also available in Italian and inside you can find the explanation of the different moon phases, their meaning according to the sign they are in and the activities favorable for each day. Again the app has paid features that are much more thorough and interesting.
The Moon Calendar
Moon Calendar is another app that talks about the moon, its phases and the meanings that these bring into our lives. The app is in English and the free functions are very few compared to the paid ones, however it remains a nice and aesthetic app to have in your smartphone.
Sanctuary
Sanctuary is a very nice app where you can consult your horoscope, guides to better understand astrology and your birth chart with its explanation. Really interesting and well done. In addition, in the app you can also buy other services such as reading your birth chart with their expert.