10 creative geometric earrings to buy online
To add a glam detail and experiment with new looks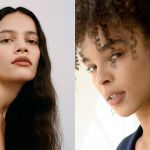 The last (presumed) week of lockdown is approaching, and while we dream of being able to think again about which outfit to wear to go out, even just to go to work or an appointment, taking care of the smallest details - from shoes to earrings.
Last week we talked about a trend that recalls the 2000s, the one of colorful earrings made of multicolor little pearls, glitter and decorations. For those who love more traditional accessories, however, a timeless trend is the one of earrings with geometric shapes: ovals, circles of various sizes, chained rings, more square shapes, usually in gold or silver shades. In addition to the more classic models, there are many original alternatives, such as Sunnei "Rubberized Earrings", which adds a rubber detail that seems to melt on the earrings, or the brand Eera, which uses traditional shapes but combining them with neon colors.
10 favorite geometric cut earrings
in a mini shopping guide.