Brad Pitt and Gwyneth Paltrow still love each other
In an interview for Goop, the former couple talked about their past and their current relationship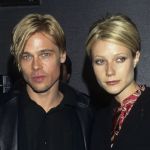 They are not the new Bennifers. They are not back together and they are not about to get married, fulfilling that insatiable nostalgia for which we would like to see a comeback between iconic couples of the 1990s and early 2000s like Kate Moss and Johnny Depp or Robert Pattinson and Kristen Stewart. But Brad Pitt and Gwyneth Paltrow are actually still very close nowadays They confessed it themselves during an interview with Goop to promote the actor's clothing brand, God's True Cashmere: more than 20 years after the breakup they still love each other.
Brad and Gwyneth's relationship lasted from 1994 to 1997, and the two, who met on the set of the cult movie Seven (a must-see!), quickly became one of Hollywood's Golden couples. Talented and beautiful, with their matchy-matchy looks they were the dream of the paparazzi who chased them everywhere. Then something broke. Just a few steps from the altar, love ended and they both went their separate ways. He met Jennifer Aniston, left to marry Angelina Jolie; she had two children with Chris Martin and has been with Brad Falchuk for a few years. The past has remained in the past for both actors, who have not spoken about their lovestory since. Only once did Gwyneth say "Brad broke my heart".
In the interview, between jokes about God's True Cashmere, the Goop founder recounted an episode concerning her father Bruce, a famous film producer who died in 2002:
"I'll never forget when we were engaged and he came to me one day, his eyes full of tears, and he said, "You know, I never really realized what they mean when they say you're gaining a son. Like, I'm gaining a son." What impact did he have on you? Why did you love him, even though we didn't get married, unfortunately."

"I felt that same kind of guidance that you would get from a coach or a mentor."
Recalled the Fight Club star, adding about their status as a former couple:
"Oh man, everything works out, doesn't it?"

"Yes, it does. I finally found the Brad I was supposed to marry. It just took me 20 years."
Paltrow ironically responded, referring to her current husband Brad Falchuk, with whom she walked down the aisle in 2018. Then at the time of the goodbyes, came the heart-stopping closure for all 90s nostalgics, and Brad said:
"It's lovely to have you as a friend now. And I do love you."
Same response from Gwen, who replies:
"I love you so much."
If 'I love you' in English can both meaning a romantic love and an affection feeling for a close friend, either the couple only loved each other in a friendly way when they were involved in a relationship or they still love romantically each other today. In addition to the linguistic pun, the event has relevance because the two are living proof of how after so much water under the bridge passed and personal experiences, all relationships can be recovered, even those with one's ex, to the extent that they let themselves say to each other on camera the same phrase they used to say to each other in a different sense in the early 1990s.