What happened between Greta Thunberg and Andrew Tate?
Between tweets, Small Dick Energy and a twist ending worthy of an action movie
It's all the talk these days: Greta Thunberg has knocked out Andrew Tate, a former American fighter who, in recent years, has gone from being a three-time ISKA kickboxing world champion to (self-proclaimed) "King of Toxic Masculinity". How? By responding promptly, sagaciously and ironically to provocations launched via Twitter by the former sportsman. Let's take a little step back for those lucky enough to have never heard of Tate. Born in Chicago, Illinois, but raised in Luton, Bedfordshire, he had his 15 minutes of fame when in 2016 he was eliminated from the UK edition of Big Brother following the release of a video showing him repeatedly hitting a woman with a belt while in the background the man could be heard repeating "You ever message one other guy ever fucking again, whether we're together or not, you're fucking dead." After being kicked off the show, Tate began his personal crusade against women by posting misogynistic content that allowed him to thrive among the most reactionary and right-wing circles and gain millions of followers on TikTok, YouTube, Facebook, Instagram and Twitter. All social networks from which he was later suspended for inciting hatred and violence. Tate describes himself as "absolutely sexist", "absolutely misogynist" and some of his most extreme and absurd "theories" claim that women are the property of men, should not drive or leave the house when in a relationship and that rape victims should "take responsibility" for their assaults. He also stated in another video what he would do if a woman were to accuse him of cheating "It's bang out the machete, boom in her face and grip her by the neck", that he only dates girls between the ages of 18 and 19 because it's easier to have an "imprint" on them, and that he moved to Romania because in his opinion the Eastern European police would be less likely to prosecute rape accusations.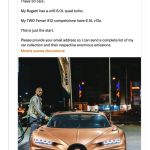 The influencer of the Alt-Right, the new American far-right, has not been content with spreading his violent, misogynistic and sexist views, but in recent days has also wanted to claim the title of climate crisis denier by stepping into the Twitter ring to challenge Greta Thunberg:
"Hello Greta Thunberg. I have 33 cars. My Bugatti has a w16 8.0L quad-turbo. My TWO Ferrari 812 competizione have 6.5L v12s. This is just the start. Please provide your email address so I can send a complete list of my car collection and its enormous emissions".
Less than 24 hours later, the young Swedish activist replied:
"Yes, please do enlighten me. Email me at [email protected]".
Someone called hers the best Tweet of the year and her words became a kind of catchphrase that bounced from social to social, even garnering accusations of body shaming. Many, ignoring the true meaning of "Small Dick Energy", thought that Thunberg had stigmatized the wrestler because of the size of his penis. In reality, as Carlotta Vagnoli also points out in a recent post, it is a lost in translation and the expression, as Urban Dictionary reports, has nothing to do with the physical appearance of the person against whom it is directed, but is a synonym for toxic masculinity, of empty and petty aggression, sometimes even cruel, used to attack those who think differently, often to mask some latent insecurity.
The controversy could have ended like this, but it did not. In response to the Swedish activist's shrewd words, Tate posted a delirious video in which he spouted a mix of conspiracy theories, from the Matrix to a hypothetical "cooling of the Sun":
"I don't usually respond to controversies online, but now the mainstream press is talking about the fact that I promised Greta Thunberg to send her a list of my high-emitting cars. She responded by sending me her email address. But I'm not absolutely mad at Greta. Why would she have an email like that? I don't want to assume her gender, let's say it's fifty percent. She doesn't understand that she was programmed, she doesn't understand that she is a slave of the Matrix, she is convinced she is doing the right thing. Someone convinced her to convince him to ask their governments to tax you for extreme poverty make the sun stop heating".
In the video, Tate was filmed behind a desk, smoking a cigar dressed only in a fighter's dressing gown, but the shot also showed a cartoon of Jerry's Pizza, a famous Romanian pizzeria, which seems to have been instrumental in giving the Tate-Thumberg affair its most unexpected and Hollywood ending. As Reuters reported, Andrew Tate, his brother Tristan and two others had long been suspected of "setting up an organized criminal group with the purpose of recruiting, housing and exploiting women, forcing them to create pornographic content for specialized paid websites" and the pizza was the clue that allowed the Romanian authorities to pinpoint the influencer's location and raid his Bucharest villa to interrogate him about the alleged crimes. Closing a story that seems stolen from the screenplay of an action movie with Jason Statham came Greta's comment on Twitter: "This is what happens when you don't recycle your pizza boxes". Chapeau!