5 iconic movies starring Monica Vitti
From "L'avventura" directed by Michelangelo Antonioni to "Polvere di stelle" with Alberto Sordi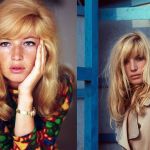 5 David di Donatello, 3 nastri d'argento, 12 globi d'oro, 1 ciak d'oro, 1 Leone d'oro. Monica Vitti won many awards during her career, but no number is enough to describe a talent like hers, so eclectic that she was perfect and credible in both dramatic and comedic roles. It is said that she realized acting was her future already as a child, during the war, playing the puppets. So, when she grew up, she enrolled at the Academy of Dramatic Art in Rome and began working first in the theatre and then as a voice actor. The cinema came later, after she was noticed by Michelangelo Antonioni. The director, who was also her partner, wanted her for his "trilogy of incommunicability" and gave her unforgettable scenes and roles that have become part of the history of Italian cinema and beyond. Once her relationship with Antonioni was over, over the next few years she left room for her comic vis, allowing the public to discover an unprecedented side of herself. No one thought that this beautiful woman with a hoarse voice, atypical compared to the burly and shapely stars of the time, could make people laugh and cry like no one else.
Monica has worked with all the greats: from Marcello Mastroianni to Alain Delon, from Giancarlo Giannini to Alberto Sordi, from Ugo Tognazzi to Vittorio Gassman.
G-Club has chosen 5 of her iconic films to discover a unique artist.
L'eclisse (1962)
According to legend, when Michelangelo Antonioni saw Monica in the dubbing room, he said something that changed the actress's life forever, consecrating her as a diva: "She has a beautiful nape, she could make cinema". The director made her his muse and chose her to star in his "trilogy of incommunicability", three black and white, almost abstract films. In the first, L'Avventura, Vitti is the tormented Claudia; in La notte she is the girl who seduces Marcello Mastroianni at a party and, in L'eclisse, she is the taciturn and mysterious Vittoria. The story? Vittoria no longer loves her partner and decides to leave him. She unsuccessfully seeks refuge in the affection of her mother and family, then by chance runs into a charming and cynical stockbroker. She spends two happy and passionate days with the man, played by Alain Delon. The next morning, they promise each other eternal love and meet up for the evening, but never see each other again.
Deserto rosso (1964)
Behind the camera there's once again Antonioni who follows Monica as Giuliana, a woman traumatised by a serious car accident. Depressed and lost, deceived and considered almost invisible by her family, she tries to find herself again. For a moment, thanks to the help of a friend of her husband's, she thinks she can, but as the film goes on she seems to suffocate, overwhelmed by the saturated colours of a highly industrial Ravenna.
La ragazza con la pistola (1968)
Monica makes her comedy debut with a role that borders on the grotesque, but is iconic. She is Assunta Patanè, a Sicilian girl who crosses the UK to get revenge on the man who abandoned her after kidnapping her and forcing her to made "fuitina", forever tarnishing her reputation in the eyes of her fellow villagers. This adventurous journey made of tortured jumpers and sixties outfits will coincide with a real emancipation for Assunta. Screenwriters Rodolfo Sonego and Luigi Magni wrote the role especially for Vitti, while Mario Monicelli was behind the camera.
Dramma della gelosia (Tutti i particolari in cronaca) (1970)
If not our private lives, the cinema has certainly taught us: the ménage a trois never ends well. The problem is, of course, jealousy, such as that which blinds Oreste, a married bricklayer who leaves his family for the beautiful flower girl Adelaide. Things get even more complicated when the new couple is joined by a young pizza maker of Tuscan origin who sweeps Adelaide off her feet. She would like to share her attention between the two men, but Oreste is unable to do so and causes the story to plunge to a bitter end. A film that is at once melancholic, funny and witty with three of the greatest actors of Italian cinema directed by Ettore Scola: Monica Vitti, Marcello Mastroianni and Giancarlo Giannini. Need more reasons to watch it?
Polvere di stelle (1973)
Inaugurated in 1969 with Amore mio aiutami, Monica continued her collaboration with Alberto Sordi who wanted her as his partner in the movie the actor directed in 1973. The title is Polvere di stelle. The story is that of Mimmo Adami and Dea Dani, husband and wife, but, above all, untalented stars of a ramshackle avanspettacolo troupe that finds unexpected and ephemeral success in the years of the Second World War. The image that sticks in the mind? Sordi as a sailor in a white jacket, striped vest and flowery necklace, and Vitti wrapped in an American flag, singing "Ma 'ndo vai se la banana non ce l'hai?".