Bold Glamour, the controversial beauty filter that changes your face
The popularity of the TikTok filter has divided users because of its problematic potential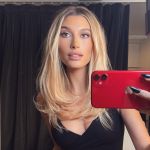 Social filters that turn us into funny creatures or enhance our looks are certainly nothing new, but Bold Glamour, the new feature from TikTok that has gone viral in recent days, definitely raises the bar in this category, sparking controversy and reflection on the general obsession with beauty and perfection. But what makes this feature different from other beauty filters available? It goes beyond a simple beautification or make-up effect and delivers results that are more reminiscent of artificial intelligence or cosmetic surgery. It smooths, sculpts and slims the face, acting like a cross between a powerful filler and a buccal fat removal surgical chirurgy, eliminating skin pores, brightening the complexion, whitening the teeth, making the eyes shine and even putting a veil of eyeshadow on the eyelids. The result is both hyper-realistic and hyper-irrealistic. And it is also dangerous to adhere to standardised, unattainable and homologised beauty standards.
According to the data reported by BoF, the popularity of the filter is impressive and continues to grow: "On Tuesday afternoon, 6.8 million videos were posted with the philtre and the hashtag #boldglamourfilter had 60.8 million views. By Thursday morning, there were already 9.3 million posted videos and the hashtag had grown to 109 million views". As the filter spreads, so does the controversy over its use. Users are divided. Some are grateful for the invention, which allows them to improve their looks in seconds and without lengthy make-up sessions; others see it as a fun and harmless way to play with their image; and others think that effortlessly getting a flawless look will make it easier and faster to post content on TikTok. However, the concerns outweigh the enthusiastic comments. Bold Glamour was called "creepy", "problematic" and "horrible" Tiktoker Kelly Strack declared, "This filter should be illegal"; @chars0far wrote "This filter would have emotionally destroyed me if I was just a few years younger"; while other comments read "How to feed low self-esteem", "If you do not want to ruin your day, do not try it. Because it will only make you feel like crap". The most common accusation is in fact that it appeals to people's insecurities and makes them crave a standardised ideal of beauty that tends to nullify the many facets that make us unique. And even encourages body dysmorphia.
@joannajkenny DON'T USE THIS FILTER This is the viral filter everyone is using rn. Tell me honestly, have you ever not shown up irl because of how you've misrepresented yourself on social media? If so, you're not alone ‍
Another problem is the extreme accuracy of the filter. Many Tiktokers have tested it and tried moving around, wearing glasses, scratching their nose or covering their face with various objects to throw it off. Unlike other philtres, however, this philtre shows no glitches. Open TikTok, click on the "+" symbol and then on "Effects" and select "Bold Glamour" Once activated, the face transforms and wears a kind of mask that remains stuck on with surgical precision, making it difficult to distinguish between reality and fiction. A detail that can fuel insecurities, dysmorphia and other problems related to one's own body and image, especially among younger users. What do you think about it? Is Bold Glamour a harmless gimmick to improve one's appearance or a potential danger?