Depression is increasingly affecting women and young people
First Italian report confirms rise in cases due to lockdown and isolation imposed by anti-Covid measures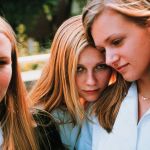 Italians are increasingly depressed. This is according to the first Italian report on the trend of depressive symptoms during the pandemic, released by the Istituto Superiore della Sanità and also published in the American Journal of Affective Disorders. The study, entitled Depressive symptoms among adults in 2018-2019 and during the 2020 COVID-19 pandemic in Italy, assessed the levels of depressive symptoms in our country from January 2018 to December 2019, before the pandemic, and in 2020, during, based on the PASSI surveillance system (Progressi delle Aziende Sanitarie per la Salute in Italia, which has been collecting information on depression since 2008). More than 55 thousand interviews conducted during this period show an increase in depressive symptoms in March-April 2020 with a prevalence of 7.1% compared to 6.1% in 2018-19, followed by a decrease of 4.4% in May-June after the lockdown was lifted, and then a new and more conspicuous increase in July-August (8.2%). Although the data highlight a strong psychological discomfort, it seems that, compared to other countries, the Italian population has shown a greater capacity for resilience in the face of the stress generated by the health crisis, allowing it to return to the levels recorded in the two years before the pandemic, i.e. 7.5% in September-October and 5.9% in November-December.
The numbers affecting people with financial difficulties, women and 18-34-year-olds, who were previously considered the lowest risk group, are particularly worrying. The impact that lockdown and DAD have on these demographics has put them at particular risk of depressive symptoms. The isolation imposed by anti-Covid measures and worries about the future have been decisive in influencing their mental health in a negative way, as Antonella Gigantesco of the Clinical-Epidemiological Research in Mental and Behavioural Health department of the ISS also points out:
"The pandemic has therefore brought with it many challenges, particularly for young people who are worried about their future, women and workers whose livelihoods have been threatened. It will be important, in the short and long term, to promote specific and innovative actions and interventions with respect to new emerging mental health needs such as strengthening mental health services and policies that also involve workplaces and schools".
The concern about the increase in cases of depression among women and young people has also led other international bodies, such as the World Health Assembly and the OECD, to highlight the need to strengthen mental health services by adopting an integrated approach with protection programs that involve not only the health industry but also the workplace and schools. The first step in this direction, although still insufficient, has been taken by the Italian Minister of Health, who has finally approved the psychological bonus: a contribution for mental health for up to 12 sessions that will enable eligible citizens to start on a path to recovery.