The 5 F/W 2022 footwear trends to absolutely have on your feet
Trends, by the way, already predicted by the stars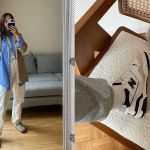 Ready (or almost) to say goodbye to summer, we are already wondering what will be in fashion at ankle height for the season to come. One thing is certain: we will continue to carry with us that patina of exquisite practicality that has accompanied us so much during the pandemic, delighting feet to be practical yet cool. So, unless you have dinners and parties where you have to flaunt sky-high heels, there will be five investments to make in shoes, and they will be one more comfortable than the other. In fact, it's no wonder that brands are putting all their eggs in the basket on something that looks good to wear from morning to night, making a daytime outfit chic and toning down an evening one. These five styles are already tried on and endorsed by the stars, so you can go safe to click online and show off your shoes straight into your wardrobe.
The joots
Let's preface this trend by saying that this is not a real shoe. In fact, the term joots originates from the combination of jeans and boots, and the trend was first brought to the forefront by Julia Fox. On Tik Tok, even, the tutorial for making this sort of very stylish legwarmers was born, and celebrities have also succumbed. See, for example, under Elsa Hosk. How to make a pair of joots? Take a pair of boots, black if possible, that you haven't worn in a while. Roll around it a piece of denim fabric, from a pair of jeans you no longer need, that reaches your knees. Et voila, you will have a brand new pair of cuissardes, eco-friendly by the way. If, on the other hand, you love ready-made shoes go hunting for vintage treasures, from Dolce & Gabbana to Christian Louboutin, as did Dua Lipa who sported a rare pair of Dior signature boots.
Ballet flats
You either love them or hate them. Razor-sharp, retro-flavored, and as comfortable as slippers. Ballet flats are the epitome of chicness according to Gossip Girl's Blair Woldorf and The O.C.'s Marissa Cooper, the champions of flats to pair with bon ton skirts. But if you think about it, these ankle-enhancing flats have an indie plus too. The queens of the relaxed style, from Sienna Miller to Alexa Chung via rocker Kate Moss, have always shown us this. How to wear them. Enhance your miniskirts with these princess 3.0 shoes, or pair them with a flair jeans and your best overcoat, purchased on some vintage stall. Also beautiful as Miu Miu offers them, to sing out of the chorus: with knee-high socks underneath, in heavy cotton or wool.
The "mistress" boots
Grant us the nickname to label these boots as the most roar and eye-catching of the season. You can easily spot them: they are the perfect mix of the boots that were worn at the turn of the 1990s and 2000s, made of leather, preferably with studs or side laces, a razor-sharp toe and a stiletto heel. Balenciaga and Diesel brought them back in vogue and practically every self-respecting It-girl wears them. However, we give you a piece of advice: don't buy them in classic black but opt for bright and eccentric colors, as the latest fashionable exhibitionist fairgrounds.
Birkenstocks
According to recent research by StockX, after taking the top spot on the 2021 list with 610 percent growth, Birkenstocks take fifth place this year among the most purchased shoes, up 219 percent from the previous year. And the credit goes not only to the classic models but also to unusual collaborations, such as the invaluable one with Manolo Blahnik. And how not to love them: they are the least ugly shoes of all, with a footbed that is the equivalent of heaven for feet. So many aficionadas, from Kendall Jenner to Dakota Johnson, whose styling touches have made them beautiful in the eyes of shoe lovers (and even Carrie Bradshaw in And just like that...). Birkenstocks have lost their name as German shoes and you can wear them any way you want, even with an ankle-length skirt paired with a nice pair of cashmere socks.
New Balance
Okay, probably the Ryan Gisling of Crazy, Stupid, Love would still be giving you dirty looks to this day. Telling you that you are not Steve Jobs, blah blah blah. Or maybe not, he'd love them in 2022, too. The fact is, the better to embrace their exquisitely chunky aesthetic. The certainty is that they cyclically come back into fashion, because they represent one of the rare accessories that look good with everything and make any look younger. Of course, don't pair them like Steve Carell did in the 2000s film, with over denim cargo pants and even more over polo shirts, but play with sexyness. You can observe how Emily Ratajkowski does it or if you prefer a more country style, you will find answer on Blanca Mirò's feed.