Mules love: the passepartout models for spring/summer 2022
From Valentina Ferragni to Hailey Bieber, no one can resist the it-shoes of the season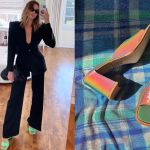 Mules are the perfect image of how we want to live this spring/summer 2022: by giving us the joy of wearing a vertiginous heel again, while remaining comfortably down-to-earth. From Scandinavian interpretations to Y2k influence, the model proves a faithful ally of summer outfits, whether you want a comfortable fit or a celebrity-inspired look.
It may seem strange to think that this minimalist, strappy sandal with or without a heel is a modern reinterpretation of 16th-century chamber shoes, but the ancestor of the mules is indeed the slipper. The origin is more celebrated this year than ever before with the new explosive passion of the moc-toe model, with its square toe, undoubtedly the most intriguing on an aesthetic level. Stolen from the loungewear of the French Court, flat mules first landed on the catwalks with a new code of use, made of agile combinations, comfort and silhouettes with a sophisticated flavour, vintage but also versatile in resort situations. From Gucci loafers loosely inspired by its iconic horsebit moccasin, to Michael Kors open toe with a wide heel and logoed band, mules have made their way from the catwalks to the feet of celebrities over the last two years. Hermés, in the Horan model with its ultra-thin heel and leather band, is the perfect reproduction of a royal slipper.
But the mules also wink at the Y2K style, as the unforgettable models with a simple patent leather band, embellished with flowers or precious stones, that we admired on the feet of Carrie Bradshaw - now the workhorse of Sarah Jessica Parker's own collection - and top models such as Kate Moss. Sporty chic girls can breathe a sigh of relief, however: the square or chunky heel of last year has not disappeared but has become the card to play for formal outfits and dance dates - but it is reinvented in models with braided bands or transparent jewelled bands, worn by Valentina Ferragni on the occasion of her sister Chiara's birthday.
How to wear them? Stiletto heels, triangle heels, with a platform or without, with a wedge, there's a pair of mules to define every style, from the glam interpreted by Versace Medusa Biggie to wear with an elegant cut-out dress, to the more chic dress code suggested by Jimmy Choo Bing mules, to the more hi-tech of Stella McCartney wedge and zip mules to wear with baggy trousers, sultan or casual evening dresses.
Travelling instead towards the waves of comfort from the raffia woven flat mules spotted on the Chloé catwalk, light-hearted and holiday-like to match with soft knitted dresses, an exclusive chapter deserves the moc toe trend.
Moc toes are the latest growing trend, daughters of a culture that combines leather and the Nordic essence of absolute comfort. We have seen them in their whimsical and contemporary patchwork version on the Emporio Armani catwalk, which highlights the most sought-after stylistic evolution of this model, to be casually paired with elegant shiny leggings. The stylists thus let the prevailing trend of the comfy coexist with our desire to wear something unique, which Gucci interprets in a classy taste by transforming its iconic moccasins into a pair of leather moccasins embellished with the distinctive golden horsebit. Precious flats where history and innovation coexist.
A hymn to practicality in a glam key are the leather moc toe sabots embellished with studs that Prada transforms into a clog with a punk rock allure, a pret a porter model to wear on the fly that fully expresses our desire for summer.