Who are the "Tomato Girls"
When Mediterranean aesthetics meets TikTok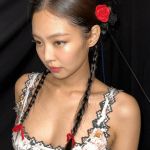 The sound of the waves of the sea in the distance, bare feet sinking into the grass, the breeze rising gently at sunset as the sky turns pink, laundry hung out to dry in the sun, the taste of a ripe tomato, the smell of bougainvillaea in bloom, a thin gold chain disappearing between the hollow of a golden breast, the table with a white tablecloth for an outdoor family meal. The imagery of Tomato Girls is nothing but a romanticised evolution of the Mediterranean aesthetic, the same mix of the sacred and the profane, good food and dolce vita that has inspired more and more designers and collections lately, starting with resort collections. Bottega Veneta, Dolce & Gabbana, Jacquemus and now TikTok, where a video posted by @bemusedbeanie featuring images of linen dresses, green tiles and juicy red tomatoes under the hashtag #tomatogirls has received millions of views by recreating nostalgic trip to the summers of the 1950s, 1960s and 1970s on the Italian coast, the Iberian peninsula or a Greek island.
The Tomato Girls naturally move sensuously like Giuseppe Tornatore's Malèna, hum through an old villa in Tuscany with headphones on like Liv Tyler in Stealing Beauty and sip Aperol Spritz with tanned legs bathing in the water. They have an old-school soul and prefer technology to helping grandma cook pasta at home like in a shot of @italysegreta, picking vegetables from the garden while biting into a juicy tomato, playing bocce with friends, taking a bike ride through the countryside like the protagonists in Call Me By Your Name or taking a walk along the rocky coast to find a place to write poetry and soak up the sun in the waves. They love reading books with yellowed pages, listening to the retro music of Mina and Frank Sinatra, and a daily routine of small pleasures and rituals like having lunch together, swimming in the Mediterranean or enjoying a glass of red wine.
If the Instagram that best represents the perfect tomato girl is that of @mexicanfaerie, full of clear, minimalist photos where influencer Daniela Garza mixes old Italian fashion codes with Mexican religious culture, then the aesthetic references are a mix of iconic muses and contemporary it-girls: Sophia Loren, Gina Lollobrigida, Monica Bellucci, Salma Hayek, Penélope Cruz, but also the many celebrities, from the Kardashians to Emily Rajatowski, who experience the Mediterranean summer every year during the warm months.
Instead of trendy cosmetics on TikTok, she prefers to rely on old granny's home remedies. Her beauty routine is simple and her trousseau full of all-in-one products. She wears her hair loose on her shoulders, in natural waves or sun-kissed, salty curls. It's best when she ties it up in a heat wave with a hair clip or barrette. Her make-up is minimalist and natural: a swipe of concealer, a glow to highlight her sun-kissed complexion, mascara for her lashes and a veil of lipstick on her plump lips. When it comes to her style, she favours linen clothes, short-sleeved tops with buttons, ruffled skirts, perhaps with lace details and floral prints, straw bags and classic red or brown leather accessories, often paired with gold jewellery that has been passed down for generations. Her clothing palette consists of white, pale yellow, tomato red, forest green and all shades of brown and gold. The brands she shops at? Mirror Palais, Lisa Says Gah, Reformation, Rouje, Faithfull the Brand and Miaou.