Fashion today is not scared to be "cheugy"
The meaning of the Uggs return and the millennial trends galore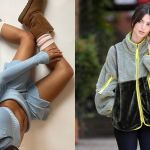 In the wintertime, it's easy to go back to where you've been, especially when it comes to clothing and trends. The TikTok generation of natives has coined a new name to define the style that features Uggs, vintage zippered fleeces, and all that cozy repertoire that aesthetically relates back to American sorority girls so much back in vogue today. With a hint of sappy nostalgia, if you are identifying with this imagery, according to Tik Tok you are cheugy, a term pronounced chew-gee and, as the New York Times quotes in its profiling, is:
"someone who is out of step with the times, who thinks he or she is stylish by wearing garments and accessories that are now out of fashion. He is rather basic, someone who is behind the trends. The kind of person who gets married in their 20s or has a millennials girl boss energy. It can be applied to anyone, any gender, any age, and is highly subjective."
Contrary to the wording that sees those who wear aesthetically millennial aligned garments as "dated" looking at Lyst's 2022 hot items list we understand that fashion today is not afraid to be cheugy, in fact, fashion today is about being cheugy. Answering the roll call of the best-selling and most desired products online in the July - October 2022 period are not only the Ugg Taz slipper and Birkenstock Boston Clog but also the Patagonia Better Sweater fleece and Balenciaga Swift Oval Sunglasses, confirming the return of a rather basic and comfort-oriented aesthetic that has always been associated with winter and its visual narrative in movies and TV series, with a Y2K twist in the best cases.
The originator of the term was tiktoker Hallie Cain in 2013, who allegedly trademarked the name by selling it as NFT, and that by the way is a very cheugy 2.0 thing. She had explained to the New York Times that she had coined the word when she was still attending Beverly Hills High School to refer to precisely the kind of people who matched, in some way, the sound of the word. Vice, even, had created a cheugy starter pack listing all the items that a cheugy person innately possesses. Any examples? She often quotes Friends as her life mantra, watches Disney (or Marvel) movies, has a rose gold iPhone, doesn't disdain skinny jeans, and wears her hair in a side parting. The return of ballet flats doesn't scare off a cheugy person, and if she finds a flannel shirt at Hollister or similar, it's all good. For many, for example, Gucci's double-G belt and Golden Goose sneakers would also be labeled as cheugy, daughters of a historical moment when logomania became a communicative symbol of luxury, but on this it is possible to opine, since on the web many interpretations of the word see even lasagna as cheugy, and tradition is not to be trifled with.
Said between us, it is more the experimentation of actually making the 1990s comeback work, which, instead of appearing to be an authentic gesture, is slowly becoming a refuge of aesthetic details that have made their mark in the past and could clash in a moment with the actuality of the new Millennium. But since Gen-Z is a spokesperson for authenticity and inclusivity, it will not be a TikTok trend that labels a personal style that uses pop-culture reminiscences as backward, even if the cultural importance of trends in the Web population is increasingly relevant.
The final detail regarding what is cheugy and what is not: complaining about being cheugy is also cheugy. In a world where finding solutions in chaos becomes the goal on the agenda, perhaps we all have a cheugy percentage in ourselves, if the new version of cheugy becomes practical, comfortable, dated but aware of being so and legitimized by the speed with which trends continue to change today, causing the 2020 aesthetic to lose a main thread.