Fashion's obsession with witches
An historic collection of witches on fashion runways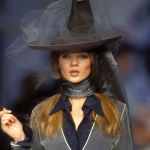 Every October, almost as if by magic, our Instagram and Pinterest feeds are invaded by a single image of Kate Moss, in which the model walks Martine Sitbon spring/summer 1993 catwalk wearing a sort of long tunic, a pointed hat and clutching a cigarette with a mouthpiece in her hands, almost as if it were a magic wand. Queen Kate in a goth version becomes the perfect inspiration for the Halloween costume and makes us rediscover the eternal love of fashion for the witch aesthetic, from the more classic one made of total black outfits, conical hats and marked make-up to the more contemporary one linked to the Wiccan religion or witchcore that is all the rage on Tiktok.
Although the first witch's uniform was nudity, history and fairy tales have always portrayed the archetype of a woman, preferably ugly and elderly, wrapped in a long black dress, perhaps accompanied by a cloak, broom (The myth of the flying broom derives from the belief, reported in the witch trials, that hags rubbed hallucinogenic ointments on their genitals to facilitate altered states and magical flight), shoes and pointed hat, probably a legacy of the hennins that women of the nobility wore during the Middle Ages or of the tall, pointed headdresses made of black felt seen on the trio of female mummies from the 4th or 3rd century BC known as witches. C. known as Subeshi witches. The concept of the evil sorceress recounted in the Malleus Maleficarum and cemented during the years of the Inquisition burnings and Salem hysteria, has evolved over time thanks to Hollywood giving us increasingly diverse and fascinating images of witches, ranging from the colorful Renaissance gowns worn by the protagonists of Hocus Pocus to the casual 90s style of the Owens sisters of Practical Magic, from the sexy, sixties mischief of The Love Witch to the goth collegians of AHS The Coven to the dark academia style of Chilling Adventures of Sabrina.
Once the conception of witchcraft practised by ugly and deformed women has been archived thanks to the world of films and series, the mystical, the supernatural, the inexplicable (often linked to rebellion, sisterhood and feminism) have become increasingly mainstream and cool, casting their spell on fashion as well. The first to bring witches to the catwalk was probably Vivienne Westwood with her autumn/winter 1983 collection entitled Witches and inspired by the esoteric side of Keith Haring's works, followed by Alexander McQueen. For the autumn/winter 2007 show, the British designer referred to his ancestral connection with a victim of the Salem witch trials; while a few years later the witchcore aesthetic, declined in an ultra-chic manner, also won over Hedi Slimane for his Saint Laurent debut and Maria Grazie Chiuri for her Dior debut. Magic, witchcraft, spells, occultism and Wiccan vibes were recurring themes in the creations of Comme Des Garçons, Ann Demeulemeester, Rodarte, Rick Owens, Gucci, Givenchy, Dilara Findikoglu and many other brands.
Here are 10 fashion shows inspired by witches:
Martine Sitbon SS 1993
The women of French designer Martine Sitbon are all different, but all self-confident, charming and original. What unites them, as well as the same attitude, is a series of outfits perfect for a 90s witch, from the reinterpretation of the oriental dress to the pinstripe trench coat combined with a wide-brimmed hat and veil. The most iconic look, the one that goes viral on social media every Halloween, is worn by Kate Moss: a tunic-like black dress, pointed hat and, instead of a wand, a cigarette with a mouthpiece in her hands.
Jean Paul Gaultier FW 2006
The familiar is an evil spirit usually incarnated in an animal, such as an owl, crow or cat, and is not only the faithful companion of those who explore the Old Religion, but also represents the connection between the Magical and Mortal worlds. In this collection, Gaultier paraded models with dogs, cats, owls and eerie antique dolls. Definitely spooky.
Alexander McQueen FW 2007
After learning that a distant relative, Elizabeth Howe, was executed during the Salem Witch Trials in 1692, Alexander McQueen created a collection for Autumn/Winter 2007 in which he explored themes of paganism and religious persecution. The models, who wore celestial headdresses and make-up reminiscent of The Love Witch, walked on a giant red pentagram drawn on black sand, while a film featuring skulls, insects and naked women was projected on an inverted pyramid-shaped screen. A high-fashion Sabbath.
Luella Bartley FW 2008
For her FW08 collection, Luella Bartley quoted Britt Ekland in The Wicker Man and the Museum of Witchcraft and Magic in Boscastle, Cornwall, bringing to the catwalk what she calls a "somewhat raw and pagan" show. The end result, however, is more akin to Sabrina Spellman's modern take on a romantic mini-dress, corduroy jodhpurs, smock-stitched blouses, single-breasted coats and colorful tights. The must-have accessory for Bartley's witches? The felt pointy hat.
Saint Laurent SS 2013
Hedi Slimane debuted at Saint Laurent with a collection that seems to quote Stevie Nicks (who legend has it is a real witch) and American artist and occultist Marjorie Cameron. His are rock'n roll and chic witches, wearing sixties allure mini-dresses and long floaty dresses, transparent blouses and bow shirts, dramatic capes and wide-brimmed hats. Still one of Slimane's most popular collections.
Comme des Garçons SS 2016
Occult and witchcraft were the central themes of The Blue Witch, Comme des Garçons' SS 2016 collection. Inspired by Celtic witches, Rei Kawakubo brought to the catwalk, to the languid notes of Blue Velvet, what her husband Adrian Joffe called "Powerful women who are misunderstood, but do good in the world". Their wardrobe? Abstract fabric creations, voluminous and furry patchworks, accessorised with sharply shaped shoes and long lucky necklaces around their necks.
Dior SS 2017
Feminism and witchcraft are intrinsically linked. Even in the first collection for Dior created by Maria Grazia Chiuri, which was specifically inspired by Christian Dior's passion for astrology and tarot cards. Remember the "We should all be feminists" t-shirt? Along with the garment that went viral, Maison's witches wore long voile dresses embroidered with shimmering threads, cosmic symbols and tarot illustrations. An ethereal collection, perfect for a good witch.
Preen by Thornton Bregazzi SS 2017
Preen design duo Thea Bregazzi and Justin Thornton became fascinated by the history of the Isle of Man, their native island which lies off the north coast of England and is famous for witchcraft and occultism. Their models are pagan creatures who have ancestral charms made of flowers, leaves, glitter and pentagrams on their dresses and faces. Wicca power!
Ryan Lo SS 2019
A little bit Harry Potter, a little bit Hocus Pocus and a little bit Disney fairytale. Ryan Lo's SS 2019 is romantic, almost childlike. His witches are good, cute, maybe even a little clumsy like the fairy godmothers in Sleeping Beauty and they wear tulle dresses, with ruffles and flowers, they love pastel colours and as accessories they have an old broomstick and a pointy hat. A happy ending is guaranteed.
Gucci FW 2020
Alessandro Michele's inspirations and quotes are always many, diverse and fascinating. Among those for FW 2020 are the 17th century Salem witch trials, the Puritans, fetish and goth. Each of these elements comes together to give life to modern witches who love black and white, dramatic clothes and statement accessories.