The trending costumes for Halloween 2022 according to Pinterest
From "Stranger Things" to Anna Delvey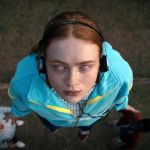 The search for the perfect Halloween costume has begun. Don't have any ideas? Don't panic, Pinterest is here to suggest some ideas. The platform has collected data from the last period and compiled a list of the 10 most searched costumes for 31 October. As is to be expected, leading the choices are films and TV series, such as Euphoria, Lord of the Rings and Top Gun, but iconic characters from both reality and fiction endure. From Avril Lavigne to Patrick Bateman, the inspirations for witch's night outfits are sometimes very easy to recreate, all it takes is a couple of the right items and, above all, a lot of attitude.
"Stranger Things"
Season 4 of Stranger Things was released in May 2022, gaining more and more fans also thanks to new characters like Eddie Munson, the Dungeons & Dragons circle master who welcomes Dustin, Lucas and Mike. With his rebellious hair and 80s metalhead look that pays homage to Eddie Van Halen, he is the perfect inspiration for next Halloween. This is also confirmed by the growing number of searches on Pinterest for "Stranger Things costume ideas", but if Eddie isn't scary enough for you on the night of 31 October, there's always Vecna and Max in his cult moment, when he manages to escape from the grasp of the mighty demon thanks to Kate Bush's Running up that hill. All you need to recreate the character played by Sadie Sink is a light blue sports jacket (the original is Quiksilver), a pair of jeans, vintage Sk8-Hi Slim Windsor Sneaker by Vans, a walkman with headphones and maybe some contact lenses for the "possessed" effect.
Elvis and Priscilla Presley
Elvis was one of the biggest films of the year and Sofia Coppola is working on another film all about Priscilla Presley, so the king of rock'n roll and his wife are the couple to impersonate at Halloween parties. Instagram is full of pictures of the two, beautiful and cool in their 50s and 60s outfits, which in Baz Luhrmann's masterpiece were designed by Prada and Miu Miu,...a real mine from which to draw and which Kaia Gerber and Jacob Elordi probably also consulted when they decided to transform themselves into Elvis and Priscilla Presley during their love story. The real secrets to a successful disguise? The attitude and beauty focused on backcombed hair and cat-eye.
Patrick Bateman
The Patrick Bateman look is all the rage on TikTok, especially among girls. The iconic protagonist of American Psycho is both scary and easily recognisable, which is perhaps why he remains one of the most popular movie stars and one of the most searched costumes online today. To channel the yuppie killer mood you need a power suit, striped shirt, tie, transparent poncho, fake blood and a hatchet.
"Top Gun"
The box-office success of Top Gun: Maverick brought the aviator mood back into vogue. More than 30 years after the debut, Pete "Maverick" Mitchell is back as a style inspiration in life too with his leather jacket and Ray Bans, but for Halloween, rather than the most iconic character ever played by Tom Cruise, better to opt for Bradley "Rooster" Bradshaw. Just add khaki clothes to the wardrobe, maybe a pilot's helmet and, of course, a moustache.
Anna Delvey
The most famous con artist of the 2000s was the subject of one of Netflix's most successful series. Inventing Anna thus becomes, like the Instagram profile @annadelveycourtlooks, the guide to study for impersonating Anna Delvey down to the last detail. Buy yourself a pair of oversized glasses and start practising your fake Russian accent. Obviously great attitude and nerve are required!
Harley Quinn
Lady Gaga will be Harley Quinn in the Joker sequel. While we wait to find out how the star will embrace the villain's aesthetic, Margot Robbie's version still triumphs every Halloween. Even the 2022 one. Rainbow hair pulled back in pigtails, shorts, a tee, fishnet stockings and fuzzy make-up are the must-have elements of your outfit. The advice? Indulge in a bit of madness, style and more.
Avril Lavigne
Cargo pants, belt layering, white tank top, tie. Avril Lavigne's style essentials have come back to dominate contemporary fashion. Perhaps this is why the search for costumes inspired by the teenage punk rock princess has increased. After all, everything you need to transform yourself into her you may already have in your wardrobes. The plus? For one night you can be a kid again and sing Complicated at the top of your lungs!
"Hocus Pocus"
Tremble, tremble, the witches are back! Bette Midler, Kathy Najimy and Sarah Jessica Parker have reprised their roles as the Sanderson witches for Hocus Pocus 2 (exclusively on Disney+). The film is definitely one to add to those to watch this Halloween (especially if you prefer magic to horror), perhaps preceded by the first chapter from 1993. It is precisely the child protagonist of the OG film, Dani Dennison, who is among the most sought-after inspirations for 31 October. We, however, still prefer the looks of Mary, Winifred and Sarah Sanderson. And you?
Maddy and Cassie di "Euphoria"
Will the hype around Euphoria ever end? Maybe, but certainly not in the next few weeks. People continue to be inspired by the protagonists of the series for everyday looks and also for those to be sported this Halloween. If you're looking for a couple's costume, the trend is to recreate Maddie and Cassie's, especially as cheerleaders. Don't feel like searching your wardrobe for a uniform? No problem, you can find it on Amazon.
"Lord of the Rings"
Maybe it's due to the launch of The Rings of Power on Prime Video or maybe just the seemingly never-ending love for Tolkien, but the Lord of the Rings mood is still relevant, especially at this time of year. Frodo, Gandalf and Arwen are great classics, but if you want something new, you can choose one of the characters from the series such as Galadriel, Disa, Elrond or Durin IV.