Sanremo 2022: the best outfits and beauty looks from the finale
From Blanco and Mahmood in Maison Valentino and Burberry to Emma in a black lace outfit by Gucci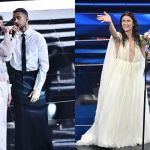 We all expected this, and so it was. Blanco and Mahmood won Sanremo 2022 with Brividi. And they did it after giving us beautiful performances every night, in which the chemistry between the two proved explosive, both in terms of outfit and sound. Second place went to the talented Elisa, an ethereal vision in Maison Valentino; while third place went to the stainless Gianni Morandi. What else will remain from this edition of the Festival? A few songs that we can't stop listening to and humming like Ciao, ciao by La Rappresentante di Lista and the certainty that we should add to our wardrobe some total white suits, a cape and leather gloves. And also this year Sanremo is over.
Here are the best outfits and beauty looks of the Sanremo 2022 finale.
Rkomi
Brand: Etro
Look: Rkomi is still wearing his biker look and arrives on stage fully dressed in black leather. After this final evening, we want to imagine him on a motorbike, traveling along Route 66, with his song Insuperabile as the soundtrack.
Aka7even
Brand: Stella Mccartney
Look: For the final Aka7even opted for a classic black suit by Stella Mccartney, illuminated by a sparkling under-jacket. Perfetto così, as the title of his song.
Noemi
Brand: Alberta Ferretti
Look: Tonight Noemi shines in her own light. With her smile, her shiny hair, the song and the dress encrusted with mirrors. During Sanremo 2022, the singer played at being a diva and, thanks to Susanna Ausoni's styling, she won.
Elisa

Brand: Valentino
Look: Last in a series of ethereal white dresses by Maison Valentino. Perhaps the most beautiful. And in a moment it seems to see Athena from Knights of the Zodiac. Elisa, we thank you also for this tbt moment.
Irama

Brand: Givenchy
Look: He too wore a suit with details that brighten up the total black, and Irama wore a sort of weave of chains. Givenchy look with styling by Simone Rutigliano.
Michele Bravi

Brand: Roberto Cavalli by Fausto Puglisi
Look: Damiano? No, Michele Bravi. In black trousers, nude t-shirt with 3D gold rose embroidery, cape worn on one side only, wet hair. Look by Roberto Cavalli by Fausto Puglisi with styling by Anna Pastore. Standing ovation!
La Rappresentante di Lista

Brand: Moschino
Look: Marie Antoinette and Louis XVI at the court of Versailles. Dario and Veronica, in a very theatrical Moschino, are ready for the remake of the cult film starring Kirsten Dunst. Please Sofia Coppola, where do you find another couple so unique?
Emma

Brand: Gucci
Look: A Gucci One of a Kind bustier dress. An explosion of black lace, chiffon ruffles and sequins. The look is completed by opera gloves, fishnet tights and black leather high-heeled platforms. Make-up? The focus is on the eyes with a dramatic, very thick eyeliner. Super Emma.
Francesca Michielin
Brand: Miu Miu
Look: She's not in the competition, but for us she's definitely a winner in terms of outfit and make-up. Tonight she's conducting the orchestra for Emma in a delicate pink long dress by Miu Miu, hair with 1920s waves and a dramatic cat-eye done with eye shadow and eyeliner. Francesca we love you.

Mahmood e Blanco Brividi

Brand: Burberry & Valentino
Look: For us, they are the absolute winners. Do we really need to tell you why? Well, we'll give you two: Blanco, in an angel version with a very white see-through organza blouse by Maison Valentino and a very elegant Mahmood, in Burberry, with a white shirt and black tie combined with a black longuette.
Highsnob & Hu

Brand: Zegna & MM6 Maison Margiela
Look: Two more suits for Highsnob and Hu, by Zegna and MM6 Maison Margiela respectively, accessorized with Nove25 jewelry. Maybe not the best of their recent outfits.
Sangiovanni
Brand: Diesel
Look: Sangiovanni walked down the stairs of the Ariston wearing a black suit, made special by rhombuses of crystals. His Diesel outfit confirms that the trend of the evening is black with a bling bling effect. The best if combined with wet hair.
DitonellaPiaga con Donatella Rettore

Brand: Philosophy by Lorenzo Serafini e Stefano De Lellis
Look: Rettore, styled by Nick Cerioni, sings Chimica in an outfit that screams 80s party. At her side, there is the always tres chic DitonellaPiaga in a romantic white dress with perfecto by Philosophy by Lorenzo Serafini.
Achille Lauro
Brand: Gucci
Look: Achille Lauro dressed as a gentleman. Is there a better occasion than the Sanremo Festival finale to sip vodka on stage in an elegant pink Gucci suit? Cheers.
Ana Mena

Brand: Emporio Armani
Look: Ana Mena concludes her Sanremo 2022 outfits, all by Emporio Armani, with a red long dress studded with sequins.
Tananai

Brand: Dior
Look: Tananai takes the stage in total black Dior. Super chic. Plus detail? The patch on his nose symbolizing a broken heart, the one he talks about in his song Sesso Occasionale.