Sanremo 2022: the best outfits and beauty looks of the fourth night
From Emma and Francesca Michielin as pop stars to the couple Mahmood & Blanco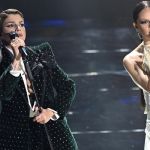 The evening of covers is always the most enjoyable of the Festival. Gianni Morandi and Lorenzo Jovanotti won the competition with an energetic medley of their most famous songs, but the performances by Achille Lauro and Loredana Bertè, Mahmood and Blanco, Elisa and Elena D'Amario also left their mark. Britney Spears' Baby One More Time, sung by Emma with Francesca Michielin, is already a hit, including the choreography. Lots of music, lots of white outfits and a cheerful mood invading Sanremo. In short, a beautiful evening, hosted by Amadeus with Maria Chiara Giannetta in Armani dresses.
Here are the best outfits and beauty looks of Sanremo 2022 fourth night.
Noemi
Brand: Alberta Ferretti
Look: Nude, black cut-outs and tonight hot pink. Noemi sits at the piano and sings Aretha Frankylin's You Make Me Feel Like a Woman, wearing an Alberta Ferretti dress with an essential line and a long train. A true soul lady.
Sangiovanni
Brand: Diesel
Look: After two pink outfits, he opted for total white suit and wore a jacket and trousers with a sort of sarong over it. His coolest look so far, always a customized Diesel. On stage to sing Pierangelo Bertoli's A muso duro, together with Sangiovanni there is an excited and moving Fiorella Mannoia in black.
Emma
Brand: Gucci
Look: Emma chooses to sing Baby one more time, a tribute to Britney Spears, to the 90s and to a woman who had to fight to regain her independence. She duets with Francesca Michielin, who goes from being a conductor to a crime partner on stage. And suddenly you are a teenager watching MTV, dancing and leaning with them. Their outfits? A dark green and shiny power suit by Gucci for Emma, while Francesca wore a Miu Miu one-shoulder top and a wrap skirt. It's Britney Bitch!
Elisa
Brand: Valentino
Look: Elisa comes down the stairs hand in hand with Elena d'Amario. Both are dressed in white by Maison Valentino, with a jacket and long skirt for the singer and a sheer dress for the dancer. The time to start the first notes and the girls go wild on the notes of Flash dance...What a feeling. When the performance, super energetic, counts more than what you wear.
Achille Lauro
Brand: Gucci
Look: On the evening dedicated to covers and duets, Achille Lauro took to the stage of Sanremo 2022 with an icon of Italian music, Loredana Bertè. She in a black mini dress, he in an elegant white Gucci suit. Together they sang Sei bellissima. At the end of the performance Achille Lauro kneels in front of Loredana's immensity and dedicates a letter to her: "What a strange man I am, who can only say Sei bellissima. Because he is still afraid to recognise your value". Chapeux!
Irama
Brand: Givenchy
Look: Irama and Gianluca Grignani singing La mia storia tra le dita. On paper it was an interesting performance, but in reality the effect is a bit cringy. Grignani opts for a look between Mad Hatter and Ozzy Osbourne, Irama with a bleached outfit by Givenchy.
Ditonellapiaga e Rettore
Brand: Philosophy by Lorenzo Serafini e Stefano De Lellis
Look: They sing Caterina Caselli's hit Nessuno mi può giudicare and repeat the B&W formula of the previous evenings, with a touch of red on Ditonellapiaga's lips and on her leather pants, which however clashed with the rest of the outfit. Too bad that the first night she was super chic.
Ana Mena
Brand: Emporio Armani
Look: No more Euphoria, wow effect mini dress and cuissardes. For the evening of duets, Ana Mena chose Rocco Hunt. Despite the energy of the performance, their outfits were anonymous.
La rappresentante di Lista
Brand: Moschino
Look: Perhaps they are the artists having the most fun on the Ariston stage. Their song is already a hit and their looks by Moschino blow the screen away every time. Tonight they look like someone from an 80s party: Dario in perfecto and leather shorts, Veronica in a mini dress and silver cuissardes. The cover? Be my baby by The Ronettes, sung together with Cosmo, Margherita Vicario and Ginevra.
Michele Bravi
Brand: Roberto Cavalli by Fausto Puglisi
Look: Black, red, green. Michele Bravi repeats the style of the previous evenings, but this time the outfit has cleaner, more essential lines. The singer has dared a lot with the outfits of Sanremo 2022, but there is something especially in the beauty that makes him more and more similar to Tom Hiddleston in Loki version.
Mahmood e Blanco
Brand: Fendi & The Attico
Look: They are so talented and cool that you can forgive them anything. Even Mahmood's Fendi bermudas and suspenders combo. When they sit down on the stairs of the Ariston and sing Gino Paoli's Il Cielo in una stanza, like Paola and Chiara did in their heyday, you think "OK, for me, this is where Sanremo 2022 ends". The Attico pale sky blue suit worn by Blanco is beautiful.
Rkomi
Brand: Etro
Look: Okay. Let's face it: Rkomi loves the States, the biker mood and 80s rock stars. To interpret these inspirations with a more contemporary twist, he relies on the style of Etro. Too bad or lucky for his fans, he prefers to remain shirtless and show off both muscles and tattoos.
Aka7even
Brand: Stella Mccartney
Look: Aka7even choose Arisa as their partner in crime. They sing Cambiare by Alex Baroni, both dressed in white. He in a Stella Mccartney suit, she in a mini dress with feathers and long train by Antonio Grimaldi.
Highsnob e Hu
Brand: Zegna e CHB Christian Boaro
Look: They arrive on stage in Zegna tuxedo and a theatrical dress by CHB, the brand created by Christian Boaro that celebrates inclusion, uniqueness and beauty. They sing one of the most beautiful Italian songs ever, Mi sono innamorato di te by Luigi Tenco, with Mr Rain. Everything was perfect.
Tananai
Brand: Dior
Look: Tananai with Rosa Chemical closes the evening of duets on the notes of A Far l'Amore Comincia Tu. A tribute to Raffaella Carrà that also comes with the sparkling and super cool Dior look chosen by Tananai.