20 Halloween costumes inspired by the recent runways
From Margiela's charming veiled tangueros to Louis Vuitton and Rodarte's vampires
Halloween 2023 is coming soon. At least once a year, it can be fun to chase away the fear by dressing up - whether it's trick-or-treating in the neighbourhood or staying home and stuffing your face with sweets in front of Netflix with family, friends and roommates. To find the right inspiration and spice up our costume style, just take a look at the latest Fashion Months. Brands and designers love to explore the dark side of fashion, bringing intriguing veiled tangueros to the runway like Maison Margiela in its SS21 collection, romantic vampires like Louis Vuitton did in its SS22 show or Rodarte did in its FW20 show, ethereal aliens like Haider Ackermann, creepy red-eyed freaks like Balenciaga or witches with silver hair like Erdem.
So, why not play for one night? Let's take glitter, dark lipstick, eyeliner, khol and powder and become witches, demons, vampires and ghosts, choosing between these 20 Halloween costumes inspired by the recent runways.
AVAVAV SS24: Zombie Worker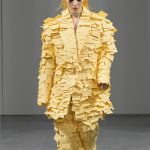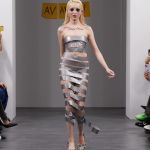 Looking for a last-minute idea? Then look no further than AVAVAV, who brought a range of unfinished dresses to the catwalk for their SS24 fashion show, accompanied by rocking make-up. There are two styles to choose from that we all have at home: the power suit made from Post-it notes and the dress made from tape. If you go for the outfit, let your artistic streak run wild and combine it with bold hair and black, smudged eye make-up with eyeliner dripping down to the cheeks.
Versace SS23: The Corpse Bride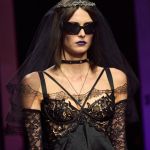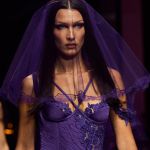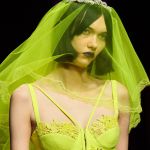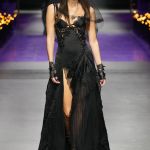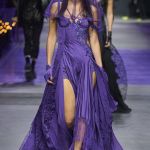 Get a slip dress, veil, black eyeliner and lipstick in dark shades, preferably black, purple or plum. What's next? Killer attitude, like a strong, complicated and sensual woman. Versace leaves nothing out, even if you reject the concept of the bride in a dark tone.
Who is afraid of the "sciura"?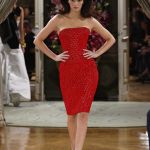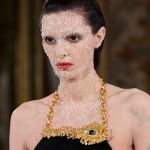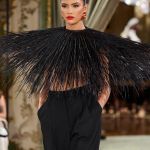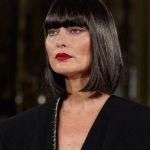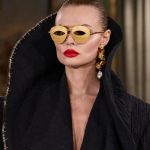 Have you ever seen one of those old-fashioned TV series or films in which the ladies of the upper middle class are very elegant, perfectly made up and have a handbag full of cruelty and snobbery as an accessory? Schiaparelli's models are just like that. If you want to be inspired by them for Halloween, you'll need tailored clothes, red lipstick and chunky gold jewellery. If you're more talented at crafting, you can try your hand at the dress made from fake nails worn by Kendall Jenner. Definitely scrachy!
Rodarte FW23: Vampire Wives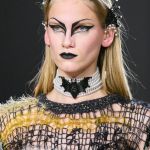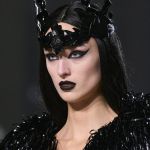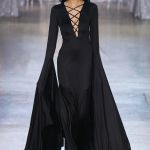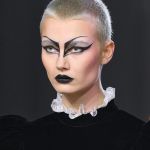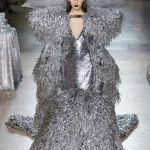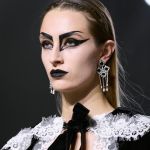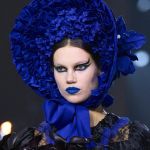 The Mulleavy sisters bring a gothic fairy tale to the catwalk, its sombre atmosphere well reflecting the inspiration for the Rodarte collection: Anjelica Huston's Morticia Addams for the dresses and hairstyle and Siouxsie Sioux for the make-up. The make-up is the most interesting element to copy. James Kaliardos used tape and an eyebrow pencil to create the shapes, then applied NARS Climax liquid eyeliner to fill in the colour. He combined the graphic eyeliner with a matte black or blue lipstick.
Y/Project SS24: the snake charmer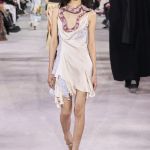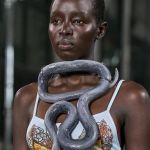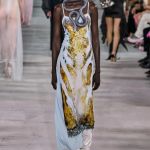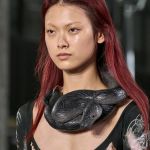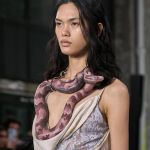 Here it's the accessories that make the look. Glenn Martens paired her slip dresses with very special necklaces: large snakes. Fake, of course, but pretty realistic. Once you find your favourite python and put it around your neck, you're ready for Halloween. Want a tip to add to the wow effect? Do it like the Y/Project models and do it without make-up and with glowing skin.
Collina Strada FW23: Wild Animals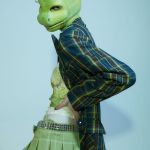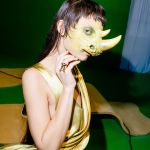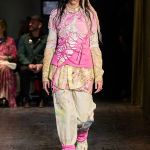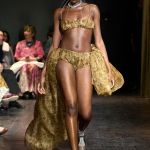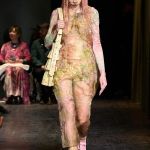 Hillary Taymour, the creative director of Collina Strada, has put together a zoo of strange anthropomorphic animals: Rabbits, lizards, fawns, pigs, horses, deer, birds. The make-up is by Isamaya Ffrench, who has resorted to latex prosthetics for the desired effect. You can also opt for a ready-made mask, there are several on the market. The more experienced can try their hand at brushes, eyeshadows and concealers. When it comes to clothing, you can choose a colour that matches the animal you are impersonating.
Thom Browne SS23: Punk Circus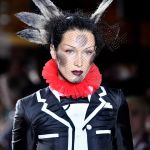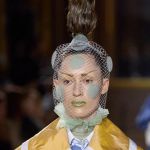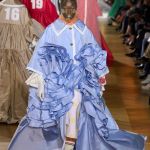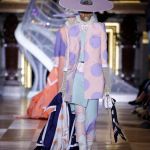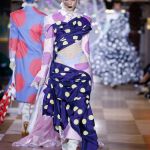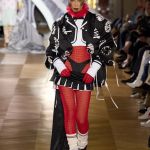 Thom Browne revisits the Cinderella fairy tale and transforms it into a circus with whimsical characters dressed in uniform jackets, wide skirts, suits decorated with polka dots, embroidered bows on dresses and tulle on their faces. The hair is sharply cut, almost punkishly spiky. The make-up is clownish and funny.
Area FW23: The new Flinstones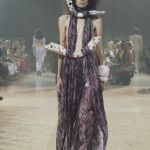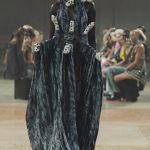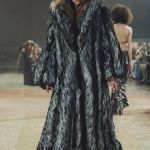 Artfully messy, voluminous hair, outfits that look like a retelling of the Flinstones look, complete with a giant bone horn as a brooch. If you could find a faux fur coat and a matching thong, you'd be the perfect primitive.
Moschino FW23: Punk Princess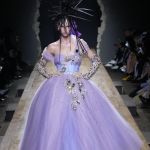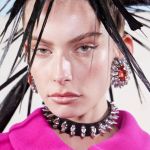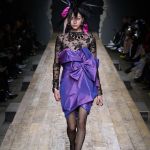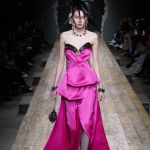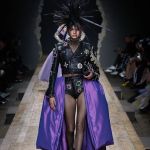 Are you undecided about your Halloween costume? Moschino's aristo punk girls are a good idea, with their 80s dresses, maxi jewellery and wigs reminiscent of 1960s London punks. To style them, the beauty team used a combination of hairspray and straighteners. The focus of the make-up was on the rocking eyes, which were accentuated with liquid eyeliner and a suggested comma in the style of the crests.
Dilara Findikoglu SS23: Dark Mermaids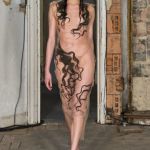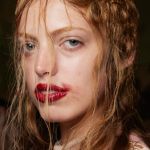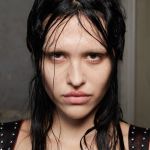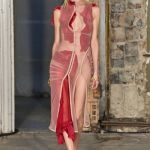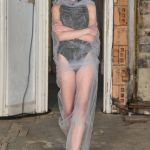 Beautiful and mysterious, Dilara Findikoglu's dark mermaids move with very long, wet hair made by Anthony Turner, wrapped around the body and illuminated by small pendants, smeared lipstick and see-through dresses that cling to the forms as if they had just come out of the water.
Blumarine SS24: Fallen angels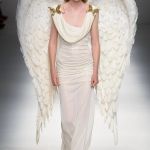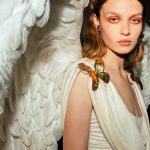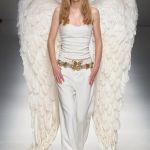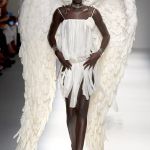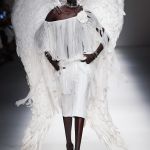 Nicola Brognano brings a host of sinful and sensual fallen angels to the Blumarine catwalk. They have big wings on their shoulders and are dressed only in white, with touches of gold and little butterflies. Turning into one of them for Halloween is not difficult. Just find the wings, wear an all-white outfit and smudge some red eye shadow around the eyes.
Rochas FW22: Dark age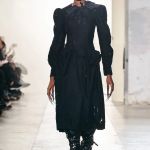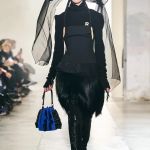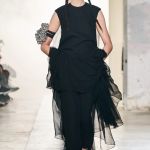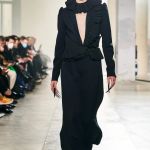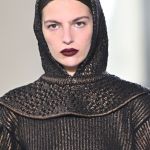 Dark times for Rochas' mediaeval-inspired collection, with padded shoulder dresses, jumpsuits with ruffled turtlenecks and long-sleeved tops that evoke the look of a knight in shining armour. Black dominates, even in beauty. Gothic chic is provided by a pale, dewy complexion, black eye shadow framing the eyes, a wine-red mouth and extra-long, curved nails painted raven black to look like claws.
LV SS22: Art Noveau Vampires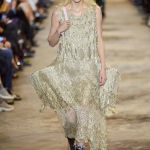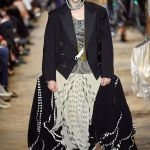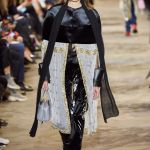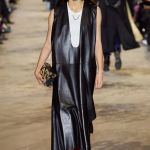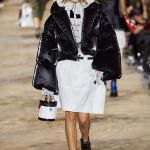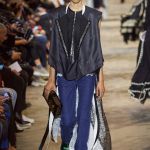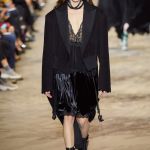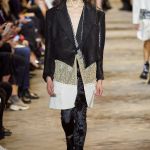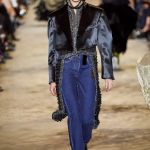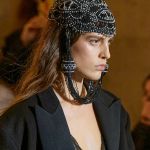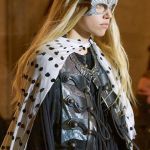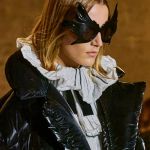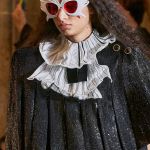 Nicolas Ghesquière brought to the runway a mash-up between Marie Antoinette, cult silent movies and the Ziegfeld Follies. Louvre's Passage Richelieu was turned into a sort of portal for time travel in which crinolines and lingerie, 1920s dresses and tuxedo jackets, leather trench coats and denim coexisted. The inspiration for Louis Vuitton's new collection is the same one that suggested to Guesquière the costumes for the HBO series Max Irma Vep, an adaptation of the 1996 film of the same name starring Maggie Cheung that was itself a remake of Les Vampires, a 1916 silent horror classic. Why not re-watch both movies in an LV SS22 style outfit on Halloween night?
Simone Rocha SS22: Les Enfants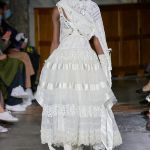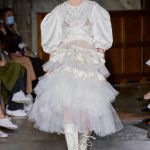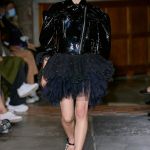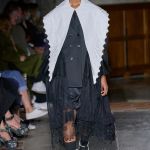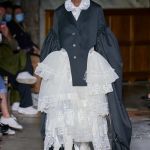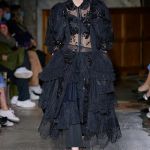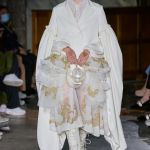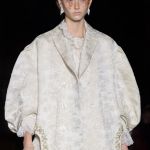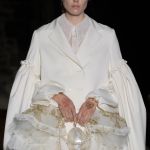 In the creation of her latest collection, Simone Rocha took inspiration from her recent maternity, turning all the pain, joy and sleepless nights into a series of dresses with exaggerated hips, full of lace and studded with jewels and pearls. The key item is the collar, oversized and embroidered, recalling both the Edwardian style and the baptism or first communion dresses. The look is completed by crystal tiaras, handbags, hairpins full of pearls and hair gathered in scenographic braids.
Richard Quinn SS22: Strange Flowers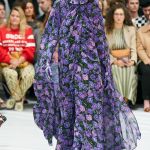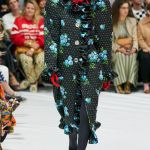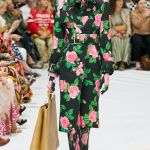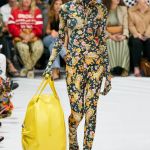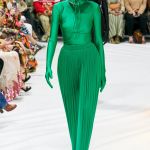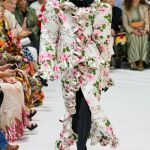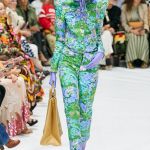 Quinn dresses models in floral prints and silhouettes that look like giant roses, sunflowers, lilacs and anemones. The result is strange, but perfect for Halloween, poised between a children's cartoon and a lysergic journey of Alice in Wonderland. For those who want to face the night of the witches with a more sunny and fun mood, but without renouncing to a touch of weirdness.
Maison Margiela SS21:

Veiled Tangueros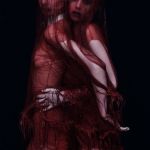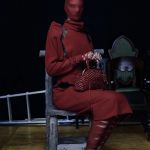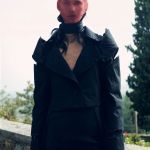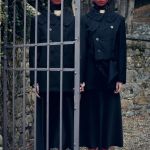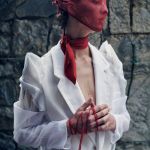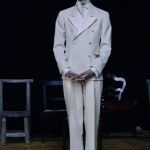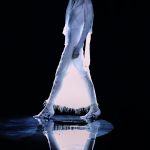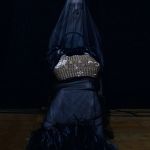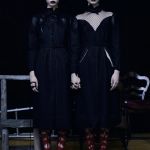 Maison Margiela presented the SS21 collection with S.W.A.L.K. II, an evocative video directed by Nick Knight starring a group of dark tango dancers with faces covered as the veiled marble statues of the neoclassical tradition. The images depict a disturbing and beautiful crew of tangueros that looks like the glamorous version of the Addams family.
Rick Owens SS21: Masked Warriors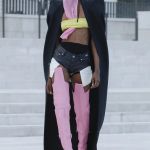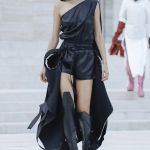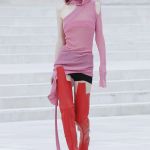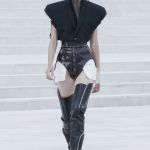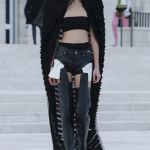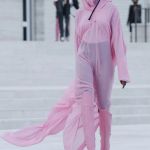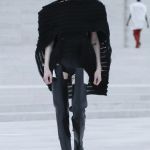 In a live streaming show from Venice, Owens presents his "Cyber warriors" in cotton poplin jackets, capes, leather garments, frayed shorts, veils, boots and masks. An elegantly dark hybrid between Metropolis and Mad Max.
Haider Ackermann FW20: Chic Aliens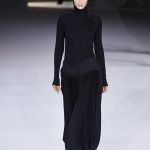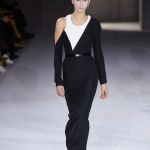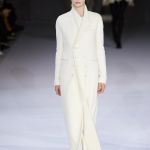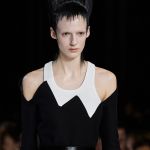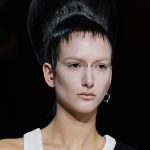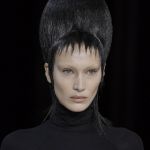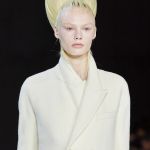 Haider Ackermann's genderless universe, with its sleek and conceptual fashion, brings alien creatures on the catwalk that look like a hybrid between the icy heroines of Alfred Hitchcock's movies and the huge-headed character played by Lisa Marie in Tim Burton's Mars Attacks!. If you want to copy one of these looks remember to wear a total black or total white outfit, to erase the eyebrows, make the skin as pale as possible and recreate the huge hairstyles as best as you can, maybe with the help of extensions or a wig.
Bora Aksu
SS21: Nurses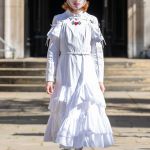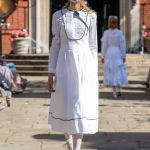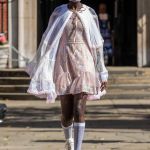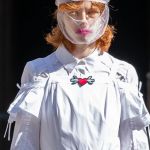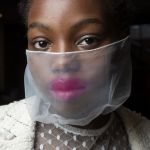 Bora Aksu is inspired by the nurses of the First World War. The result is surprisingly romantic, with transparent dresses, full of ruffles and embroidery. Choosing to replicate one of these SS21 looks for Halloween can be a good idea to exorcise the fears we are experiencing and insert the use of the mask in style. Aksu has proposed it in sheer fabric, to let you see the lips painted in blue and fuchsia, but, if you want, you can choose to wear the surgical mask and print it on a simple lipstick kiss.
Yohji Yamamoto FW20: Dramatic Ghosts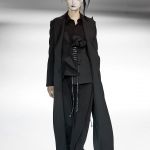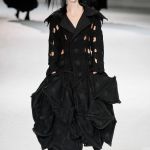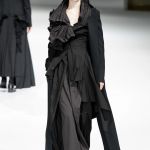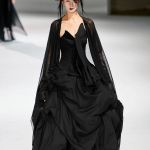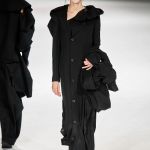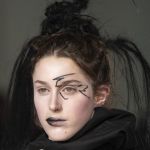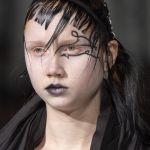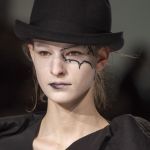 Corsets, crinolines and fin dé siecle shapes meet punk. The make-up made of graphic signs around the eyes and black lipstick applied only partially is perfect for Halloween.