The perfect union between food & fashion
From the Moschino dresses by Jeremy Scott inspired by the giants of the food industry, to the edible items of Leeann Huang
Food is increasingly moving towards the lifestyle sphere: restaurants offer unique experiences that value more than the food you eat there. Eating has been transformed by the visive impact it does in the plate, and thus new trends are always around: food prep techniques, color and food preps continuously change and pass. At this pace, connecting the cooking art with fashion has never been so easy.
Nowadays, fashion brands count on the experimentation of food corporation to team up and create unique products to be bought by many more consumers. A different clientele, a wider reach are two of the juiciest factors of a food collaborations for a fashion house, especially on international scale: let's have a look at 4 of the latest and coolest ones!
The tastiest collabs
Nike SB x Ben & Jerry's "Chunky Dunky" Sneakers
"From licks to kicks" goes the collaboration between Nike SB and the ice cream brand Ben & Jerry. With colors and textures that look like they came straight from a pint of Chunky Monkey, they're "the most euphoric thing you can put on your feet". Colorful tie-dye patterns and bold text graphics cover the shoe's insole and heel. The shoe made everyone euphoric, because it is anymore available nowhere except on some resell sites, where its price revolves around 6/7,000$.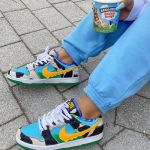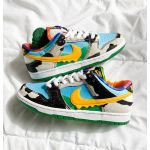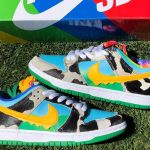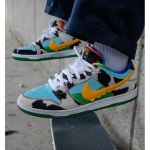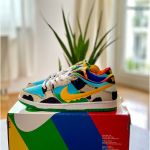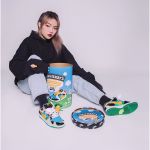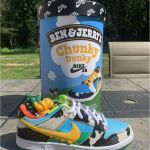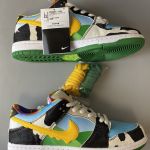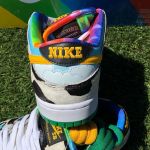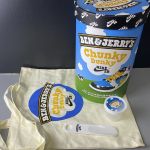 Supreme & Oreo
Only 8$ for a Supreme item. Surprised? The Supreme X Oreo collaboration was sold at this price for a 3-pack, whilst the same biscuit-pack is sold per less than 1$. That's the hype effect, but pay attention. Forbes stated that in the resell market Supreme X Oreo cookies were sold for 92,000$ per pack. Consider the investment next time.
Chiara Ferragni & Oreo
Captivating, fresh and super pop are the keywords of the collaboration between the most famous digital entrepreneur in the world, Chiara Ferragni, and Oreo, the number one cookie in the double layer of cream version. The packaging is made in perfect Chiara Ferragni style: covered with a cascade of iconic eyelikes, iconic logo of Chiara's brand. She also launched a dedicated Limited Edition Capsule Collection and the "Free your Oreo Spirit" contest to win two of the four items. Italian pride knows how to manage hype.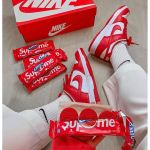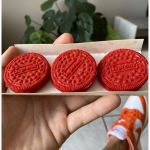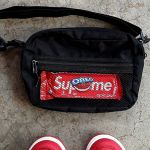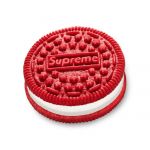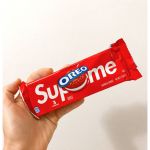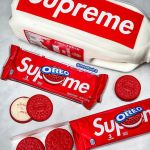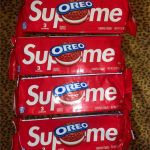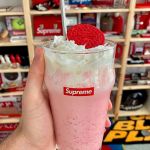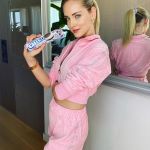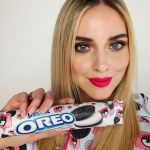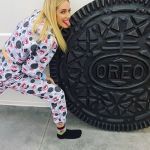 Food-inspired fashion
It is no coincidence that Paris is the capital of both food and fashion. King Louis XIV set out to make Paris the arbiter of taste and style, giving rise to celebrity chefs and courtiers as part of his mercantilist approach of economic and political policy under the advice of his controller general of finance, Jean-Baptiste Colbert, long before Marie-Antoinette (in)famously became a trendsetter in her own right. Louis XIV saw that becoming a leader in food and fashion was a "soft power" and encouraged tourism and increased exports. Many fashion brands nowadays borrow elements from the world of food, some in a more delicate and ethical way, some more conceptual or fun.
Moschino 2014 by Jeremy Scott
A cathartically funny historical moment: Jeremy Scott designs a full collection inspired by McDonald's for his first runway in charge of Moschino's creative direction in 2014. He followed the idea of Franco Moschino, the Italian fashion house founder, who decided in a collection to present a "dinner jacket" with knives and forks attached, to mark the connection (and the joke) with social occasions, food and clothing. Scott did the same with the giants of the food industry in the collection.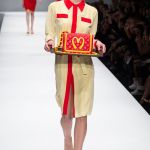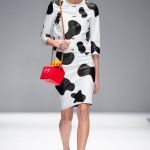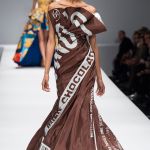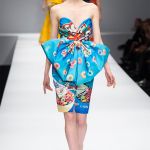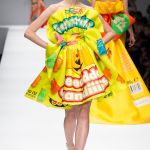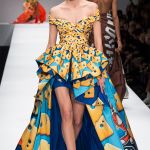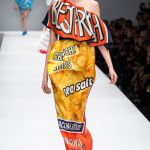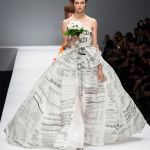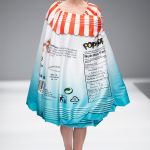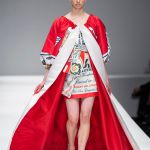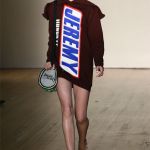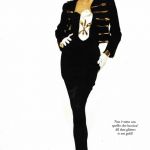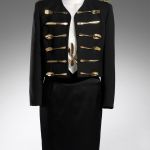 Leeann Huang SS19 edible clothing
Leeann Huang is an Asian Fashion Designer, graduated at Central Saint Martins in London, home of talents like Riccardo Tisci and Stella McCartney. The designer, now working for Maison Martin Margiela, decided to create a question in the viewer's eye with this edible collection. As she loves cooking, she used jelly and chocolate to create shirts and dry oranges with nuts to decorate shiny pants. The clothes can be eaten to stand out against consumerism.
Keef Palas 2019 Ephemereal Collection
The project Keef Palas continues the ephemeral concept: the co-founders, Claire O'Keefe and Eugenia Olivia create jewelry that last only a short time frame, against the frenetic rhythm of fast fashion's demand, offer and production. Accessories from earrings to bikinis are produced with what seems a Mediterrean diet shopping list: garlic cloves, mussels, walnuts, grapes, olives and red peppers are protagonists of unique pieces that seem to be assembled on the beach. With the sole difference that Keef Palas vacuum-seals the package and ships it to the customer.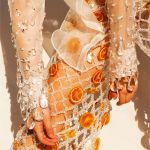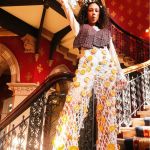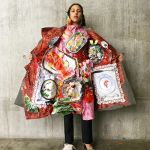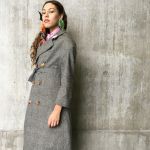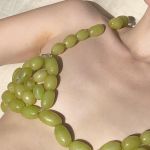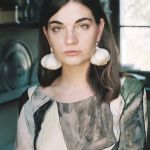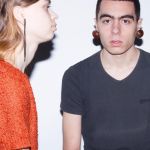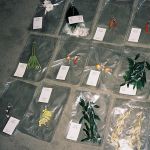 Models cooking shows
Fashion and food are definitely bonded by something visceral. Behind fashion spotlights we see the protagonist of this world, models, be struggling with food a lot. But food is also the part of the runways backstage where everyone relaxes and chat. Elettra Wiedemann, author of the food guide "Impatient Foodie" and Isabella Rossellini's daughter, compares the allure of a handcrafted Birkin bag with that of a locally sourced, organically grown tomato. "Both tell a story, were a labour of love and connect the consumer to an artisan and tradition, that's what has gripped the imagination of many people in fashion." YouTube is thus the place where Elettra cooks with guests such as Grace Coddington and Blake Lively. Same is done by Jourdan Dunn, who cooks family favorites and enlists fellow model Cara Delevingne as an occasional sous chef, and colleague Romee Strjid, who captured the attention of the web with her "What I eat in a day as a Victoria's Secret Angel".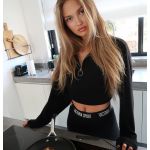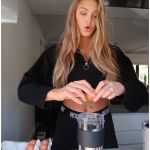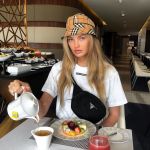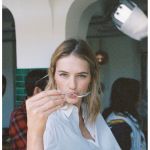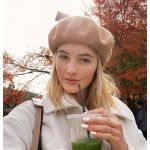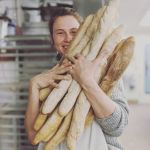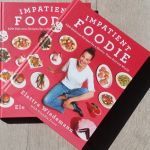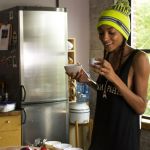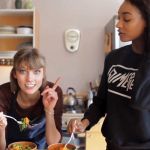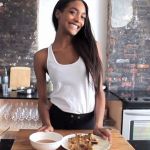 Pop-up stores and "en vogue" restaurants
Food and Fashion meets on the plate but also in luxurious and sharply designed buildings, who are an experiment for most know fashion houses to differentiate their business involving their insoluble image in the food and experience industry. And also in fun pop-up stores around the cities in the hectic Fashion Week's times.
Gucci Osteria
Alessandro Michele, creative director of Gucci, knows Italian excellence well and entrusts the direction of the Gucci Osteria, restaurant next to the Gucci Garden museum and store in Firenze, to Massimo Bottura, three-starred chef and worldwide award-winner. Gucci Osteria is the place where gourmets, historians and fashionistas come together to enjoy the scenographic creations of Karime López, the first Mexican chef to receive a Michelin star.
Bar Luce in Fondazione Prada
Milanese fashion house logo is not even showing in this bar/bistro at Fondazione Prada, but the sharp signature of the brand and director Wes Anderson is definitely visible. The chromatic range, the furniture, the seats, the floor and the wooden panels recall the popular culture and the aesthetics of the Old Milan, that inspired Anderson for the short film Castello Cavalcanti (2013) and where Miuccia Prada grew up. Coffee and pastries from the Pasticceria Marchesi in Milan, of which the Prada Group is the owner, are served at the counter.
ETRO x Bice
The well-known Milanese trattoria where the Etro family is used to have gatherings and dinners became place for a "temporary Etro exhibition" last september 2019. Personalized home furnitures and accessories from the ETRO home line were all over Bice, decorating the rooms with Paisley and warm toned prints.
Fendi x Steccolecco
Steccolecco and Fendi share Roma as a hometown, thus decided to join forces to create this lovely pop-up store to celebrate 2019's Milan Fashion Week, placed in the middle of Milan Central Train Station. In the little shop the Fendi monogram is everywhere, especially on the ice cream sticks, that come in colorful and tasty options. A must stop-by!