10 cool and funny earrings to buy online
To give an extra touch to home outfits and Zoom meetings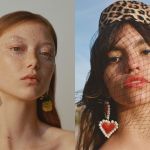 We can be honest, in these days of lockdown (that has lasted for more than a month now) the need to dress well and select our outfit carefully to the smallest details is not our priority. This is replaced by loungewear and tracksuits, and for those who are doing smart-working the "half outfits": we pay attention to the upper part, with a soft make-up, nice hair and a shirt or tee, while we do not leave the warm and soft pants of pajamas or lounge-pants.
What does it mean? This trend is also reflected on the fashion & beauty market: sales of lipsticks, beauty and make-up products, as well as jewelry, are increasing; especially the earrings that are more visible, and capable of giving a touch of light and color to our face, even without wearing make-up. Why not wearing them during a business meeting on Zoom or show them to friends during the weekend videocalls?
funny and playful, colorful earrings
, which portray flowers and fruit, sprinkled with shiny pearls and glitters, inspired by the jewels we used to wear while making the first attempts of selfies, inspired by our pop icons of those years.
From the brands of the luxury industry, which offer their own statement earrings, to cheaper jewelery and emerging brands that are more affordable, here are our 10 favorite earrings of the moment, selected by nss G-Club.