Anti-aging cream: when to start using it?
The best creams and serums for anti-ageing care
Remember when Jennifer Aniston revealed her beauty secret by revealing that she keeps her anti-wrinkle cosmetics in the fridge? Well, aging is one of the few constants in life and striving to delay the signs of time is a journey that many undertake. For this reason, anti-age cosmetics become allies when it comes to preserving the youthfulness of the skin. In this in-depth article, we get to the bottom of it and answer the most common questions: when is it right to start the journey against the signs of ageing, which products are trustworthy and are these anti-ageing elixirs really the answer to our hopes of maintaining firm and radiant skin?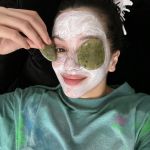 When should you start using anti-wrinkle cream?
Let's start with the basics: Many people wonder at what age they should start using anti-wrinkle products. In fact, prevention is the name of the game. Experts recommend starting to take care of your skin at a young age. The first signs of skin ageing appear as early as age 20, and an early anti-wrinkle programme can make all the difference. As we browse the vast market, we are confronted with a variety of products, from creams to serums to eye and lip contouring. The challenge is to find the right products for our skin type and specific needs.
What are the key ingredients in an anti-wrinkle cream?
The key ingredients that make these products really effective are retinoids - derivatives of vitamin A - which stimulate collagen production and reduce wrinkles; hyaluronic acid, a powerful moisturiser, helps keep the skin young and well hydrated, while vitamin C acts as an antioxidant, fighting free radical damage.
Do anti wrinkle creams really work?
The crucial question remains: Do anti wrinkle creams really work? Although many of them promise miracles, it is important to understand the science behind these products. Ingredients can play an important role, but results vary from person to person. Also, a holistic approach that includes a healthy lifestyle with a balanced diet and sun protection is essential to get the most benefit.
The anti-aging trend from TikTok
Last but not least, one of the latest trends on TikTok is 'facial sculpting', which involves the use of jade stone massagers or rose quartz rollers. Beauty enthusiasts show in their videos how to use these devices to improve circulation, reduce puffiness and supposedly fight wrinkles. Although the science behind these methods is debatable, their visual impact on social platforms is undeniable. In addition, some TikTok influencers show off their homemade anti-wrinkle masks, which are often made from natural ingredients such as avocado, honey or aloe vera. These homemade treatments have become a widespread phenomenon, with millions of users experimenting and sharing their own customised versions.
Are you ready? nss G-Club has selected the anti-wrinkle products for you to try now: