Watercolor Tears, the new make-up trend to celebrate Pride Month
When color becomes a fun and free way of individual expression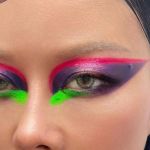 In New York in the 1930s and 1940s, a number of cafeterias on Christopher Street in Sheridan Square, such as the Life Cafeteria, not far from where the Stonewall Riots broke out decades later, provided a place where gay men could meet in public. Here, report George Chauncey and Rae Nudson in All Made Up: The Power and Pitfalls of Beauty Culture from Cleopatra to Kim Kardashian, openly gay men, often with long hair and heavy makeup, ate and talked while sitting by the window, attracting a crowd of onlookers to watch them. In those years, the DSM, the Diagnostic and Statistical Manual of Mental Disorders, considered homosexuality a sexual deviation and in the United States it was illegal to hold hands, kiss or dance in a "non-heterosexual dynamic" and it was illegal to wear more than three items of clothing that were "appropriate to their sex" Anyone who challenged hetero-cisgender society and did not conform to their birth sex in clothing, make-up or hairstyle risked arrest. At the same time, a certain make-up or clothing detail helped LGBTQIA+ people to recognise each other and create a safe haven where they could network.
By emphasising the theatricality of their appearance and daring to use eyeshadow and blush, Life Cafeteria visitors transformed everyday places into a stage where violating gender conventions was "less offensive because less threatening". They used their make-up as a strategy to claim public spaces in the city, but also to rebel against laws that restricted gender appearance. This is just one small example of how make-up can have different meanings. For some it can be a shield to conceal flaws and face everyday life with more confidence, for another group of people it can be a shackle, a way to conform to beauty dictates, for others it can be a game, but for many others, including the LGBTQIA+ community, it can become a weapon to challenge cultural expectations, gender norms and archaic beauty standards.
Personal, transformative, playful, creative and meaningful - make-up is like a tool to express one's individuality, whatever it may be. It's a visual language that speaks of beauty and self-affirmation, and it gains even more value during Pride Month. June is the month to remind everyone to celebrate the LGBTQIA+ community, queer culture and all things Pride every day. It's a good time to splurge on anything sparkly, colourful and with personality. So why not embrace the most joyful and colourful beauty trend of the moment? It is called Watercolour Tears and involves concentrating pigment in the tear duct area. Those who prefer a more minimalist look can simply apply a little eye shadow to this area and leave the rest of the eyelid natural. However, the best effect is created with an explosion of rainbow on the eyes, eyelid and under the lower lash line. Just like painting an abstract picture or playing with markers as a child, let your creativity run wild. For Prime Month, you can mix the six colours of the rainbow flag created by artist Gilbert Baker in 1978: Red (symbol of life), Orange (health), Yellow (sunlight), Green (nature), Indigo (harmony) and Purple (spirit). Or juxtapose pigment spots and graphic lines and do not be afraid to skimp on glitter, fluorescent hues and metallic finishes. The final effect should be a little "dewy"," smudged, as if the eyeshadow has been spread haphazardly and imprecisely.
Below is a shopping list of some products that are perfect for mimicking Watercolour Tears make-up.