The best beauty looks from the Met Gala 2023
And a small shopping guide to make them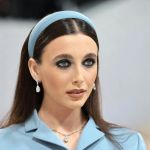 The most anticipated event of the year by all fashionistas is not only accompanied by spectacular gowns, but also by many beauty looks designed to amaze the onlooker. And when it comes to make-up and hairstyle, the Met Gala 2023 did not disappoint. With their homage to Choupette, Doja Cat and Lil Nas X caught the attention of photographers and social media. The singer opted for a bold body paint look designed and executed by Pat McGrath. The legendary make-up artist covered her body in glitter, pearls and gemstones, while her hair was by Coree Moreno and her nails, or rather claws, by Temeka Jackson. Doja Cat (nomen omen) transformed into Lagerfeld's cat by pairing her Oscar de la Renta with a prosthetic face created by artist Malina Stearns, complemented by extended eyeliner, false lashes, ultra-thin 90s eyebrows and shades of blush.
Other celebrities were divided between those who opted for glam make-up, choosing whether to emphasise the lips or the eyes more, and those who cited Lagerfeld and his catwalk fetishes such as reedy hair often gathered into a low ponytail, pearls, black bows, headbands and hair bands. Triumphant indeed was hair in cool tones (the next trend of the season?). Jessica Chastain debuted on the steps of the Met Gala with a new diva hairstyle, very long and very straight, a little reminiscent of Donatella Versace. With the help of Renato Campora, she changed from her signature red to an icy blonde, accentuated by a smokey eye between blue and silver, created by Kristofer Buckle with Charlotte Tilbury products, in particular the Luxury Palette - The Rock Chick, while the diamond lips are an effect of the K.I.S.I.N.G. Lipstick in Bitch Perfect. The Oscar winner is rumoured to have resorted to a wig, while it's safe to say that Cara Delevingne emulated the late designer's style with a short silver bob with wet and tousled styling (by Daniella Priano), paired with some manga-like make-up by Hung Vanngo. Similarly, Marion Cotillard opted for a modern Joan of Arc parting (by Adir Abergel), but in a pastel shade of pink, which her lipstick and eye shadow also recall. Adir Abergel is also the creator of Kristen Stewart's mullet look, which the actress chose to give a new twist to her androgynous vintage-chanel look. Also worth emulating are the straight eyebrows mimicked with eyebrow pencil, the big trend of the moment on TikTok.
Talking about new hairstyles, we can not help but mention Florence Pugh, who presented her fans with a buzz cut by Peter Lux, made special by a vertical feathered headdress. Also interesting were the milk-coloured almond nails decorated with small black polka dots and Karl Lagerfeld's face. Talking further about nail art, we should mention Rita Ora's jewelled manicure by Naomi Yasuda, where long glittering chains were attached to the nails, reminiscent of Chanel necklaces. Rounding out the beauty looks were Botticelli waves and smokey eyes in shades of black by Charlotte Tilbury. Emily Ratajkowski wore the Botticelli hair in various types, along with a sleek fringe, Carla Bruni, Maya Hawke as a wavy shag, Gigi Hadid in Vanilla Blonde and Anne Hathaway in a bouffant, semi-wavy version.
Black bows and bombshell headbands were emblazoned on extra-long locks, tails and braids. Nicole Kidman opted for a subtle black bow; Karlie Kloss's ponytail was reminiscent of Claudia Schiffer's look on the 1995 Chanel catwalk; Billie Eilish adorned her braid with black ribbon and crystals for a super-goth look; Emily Ratajkowski wore a black bow to tame her hair into a half-tail; Sydney Sweeney and Gigi Hadid completed the ethereal beauty look. Sydney opted for voluminous hair, the style of a 90s supermodel and bright, pale pink make-up by Mélissa Hernandez with products by Armani Beauty. The most romantic, however, remains Elle Fanning, a hippie bride in a tailored Vivienne Westwood look, with a crown of daisies and black bows on her head, paired with make-up that is all shades of pink, with products from L'Oreal Paris such as the Age Perfect Radiant Satin Blush in Mauved. Also on our shopping list are the bombshell hair bands of Cardi B, who wore a silver wig styled like Storm from X-Men, and Emma Chamberlain. The You Tube star chose a Miu Miu look in sky blue hues for the dress, accessories and make-up. The beautiful smokey eyes by Lancôme were mixed with the Hypnôse palette in the shade Bleu Hypnotique, Drama Denim, Smokey Chic and a touch of Reflet d'Améthyste.
Lancôme products were also used in the beauty look chosen by Fiona Stiles for Lily Collins, a vintage Hollywood glamour look that starred red lips. For this, apply Lancôme L'Absolu Rouge Drama Matte in 196 French Touch in combination with a touch of Lancôme L'Absolu Rouge Drama Matte in 82 Rouge Pigalle in the centre of the lips to create dimensionality. Glam and red lipstick were also the perfect combination for Rihanna (her lipstick was Stunna Lip Paint in Uncensored by Fenty Beauty), Janelle Monae and Salma Hayek (her lipstick was Lip Cheat by Charlotte Tilbury in Walk Of No Shame). The coolest? Amanda Seyfried, who wore make-up by Genevieve Herr. All she had to do was apply a squirt of Lancôme L'Absolu Rouge Drama Matte Lipstick in 82 Rouge Pigalle to the centre of her lips and then blend outwards for a wow effect.
Here's a little shopping guide to copy your favourite Met Gala 2023 beauty look: