Who are the beauty testimonials of 2023?
Who are the beauty testimonials of 2023? From Sydney Sweeney to Natalie Portman, here are the new beauty ambassadors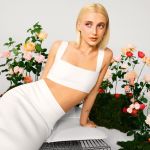 Women with character, free and authentic: with the new season, advertising campaigns and new testimonials begin again. Many engagements, among well-known faces of the star system and increasingly also very young promises under 30, who not only conquer beauty. Indeed, their image is capable of going beyond mere aesthetics. You like them because they convey messages, tell stories, are inspiring, are symbols of talent and self-confidence, are faces and personalities you recognise yourself in. Here are the new beauty testimonials you should look out for.


Whitney Peak for Chanel


Chanel has found the perfect face to embody the new era of Coco Mademoiselle. Whitney Peak, a 20-year-old Canadian actress, is one of the main characters in the reboot of the Gossip Girl series and the star of Anne Fletcher's Hocus Pocus 2. The actress is already the fashion house's ambassador for the U.S. market and muse for the Chanel 22 bag campaign.

Hunter Schafer for Mugler


Hunter Schafer, a symbol of dazzling, powerful, free and boundless femininity, is the new face of Angel, starting with Angel Elixir, Mugler's new fragrance for women. At just 24 years old, the actress, who hails from North Carolina (USA), is an extraordinarily talented rising star with a fan base that includes both Generation Z and Millennials. A charismatic actress with unique charisma, she continues to add memorable roles to her impressive resume, from the global phenomenon Euphoria, in which she plays Jules Vaugh, to the upcoming 2023 theatrical release of Cuckoo and the latest chapter of Francis Lawrence's Hunger Games: The Ballad of Songbirds and Snakes.
Bella Hadid for Charlotte Tilbury


Charlotte Tilbury has announced the addition of Bella Hadid to the brand's muses roster. After days of speculation, the news is now out, causing great excitement among fans of the cosmetics brand and the global supermodel. Charlotte Tilbury's muses already include big names from the world of fashion and film, such as Kate Moss, Lily James, Michaela Jae Rodriguez, Jourdan Dunn and Han So Hee. The collaboration between Charlotte Tilbury and Bella Hadid promises to be an extraordinary success for both, with a significant impact on the world of beauty, fashion and beyond. With the combination of Charlotte's creativity and experience and Bella's sensitivity and influence, the brand is preparing for a new beauty era with bold, innovative proposals in which we can all find ourselves.
Sydney Sweeney for Armani Beauty
She has determination and talent and is one of the most versatile and magnetic among young actresses. All this makes Sydney Sweeney the perfect embodiment of the spirit of MY WAY: "the idea of a free yet profound femininity", according to Giorgio Armani. The new campaign by Italian photographer Dario Catellani and German director Jonas Lindstroem is an invitation to explore new horizons and follow your own path, and to live this experience through Sydney's eyes. The photographs capture a new vision of femininity, profound and free-spirited.
Emma Chamberlain for Lancôme
Emma Chamberlain, the face of Generation Z
and a digital veteran, is not only a global ambassador for Lancôme, but also the star of the brand's first web series "How do you say beauty in French", in which she will talk about self-perception and authenticity. The aim is to promote a positive and powerful idea of beauty that can lead a new generation of consumers to shine inside and out by learning how to best showcase themselves and their authenticity.

Melissa Barrera for Clinique
Talented Mexican actress and singer
Melissa Barrera is Clinique's first global Latina ambassador
and stars in the new Even Better campaign. She is a natural and radiant beauty who makes the effect of glassy skin a signature element: highlighting with little, like a veil of blush.

Natalie Portman for Miss Dior Blooming Bouquet.
Natalie Portman, the face of Miss Dior since 2011
and already testimonial of the iconic perfume created by Monsieur Dior in 1947, returns with all her captivating and magnetic charm in the 2023 campaign for Miss Dior Blooming Bouquet. Surrounded by colourful and fragrant wildflowers, the actress represents the spirit of Miss Dior with her timeless elegance in the new 2023 campaign, which celebrates life with its playful and captivating fragrance.