Ganni enters the beauty business with plastic-free glitter
In collaboration with Los Angeles-based brand Submission Beauty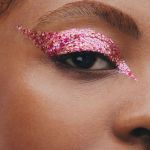 The personal care and beauty industry produces more than 120 billion packages each year globally, most of which are not truly recyclable, according to the British Beauty Council, and end up in landfills or oceans. The biggest problem concerns plastic. Therefore, when it decided to launch its first beauty collection, Ganni, which has made sustainability its focus, decided to join forces with a Los Angeles-based brand that shared its commitment, Submission Beauty. The result is a collection of colored, plant-based, plastic-free glitter.
The collaboration, therefore, was born out of a common sensitivity towards the preservation of the environment, but at the same time represents a kind of test bench for both brands. For Submission, it is a chance to make itself known to a wider audience, while for Ganni it is an opportunity to test the beauty market before entering it with a real make-up collection. While Ganni, with its mix of vibrant, original prints and bright colors that make special pieces easy, seasonless, sustainable and easy to mix and match to create personal styling has become synonymous with scandi cool among Gen Z, Submission is still a new name.
Founded in 2020 by makeup artist Zenia Jaeger with the desire to make the world of cosmetics more sustainable and green, the brand's main characteristic is the total absence of synthetic materials, first and foremost plastic, from formulas to packaging. This is why even Submission's containers are made of glass, with a tin cap, without the classic polyethylene (PE) plastic coating that is standard for the beauty industry. Soon Jaeger will expand its creature with illuminants, bronzers and body oils, but, at the moment, glitter is the main product. Usually made of aluminium or cheap-looking plastic, those of Submission and the collaboration with Ganni are made of natural cellulose derived from wood pulp and are biodegradable.
The glitter from the limited capsule between Ganni and Submission will be available in three shades, pink, gold and silver, sold for $25 on Ganni's e-commerce site and its shops worldwide, but, of course, also on Submission's website.