Kate Moss launches Cosmoss, her mystic beauty brand
Among skincare, alchemical teas and new age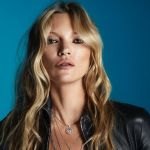 Long gone are the days of crazy nights, rock 'n roll parties, cocaine and rivers of vodka, alcohol she was capable of drinking for so much that she received the nickname the tank. Kate Moss now sleeps eight hours a night, does long yoga sessions every morning, drinks water and lemon, follows a healthy diet, and regularly visits TheLifeCo Bodrum, a wellness and detox retreat. It is a radical life change, a journey of acceptance that has led her to be freely herself and that she now feels ready to share with everyone. How? With Cosmoss, her wellness brand, a mix of new age philosophy, offering rituals that "open the door to balance, rebirth and love" and skincare based on "rejuvenation, balance, healing, sensuality and awareness."
Cosmoss' first products that will go on sale Sept. 1 have vegan, 100 percent natural formulas and are developed to address the multifaceted nature of modern life. There's the in & out serum, a holistic collagen-rich oil combined with high-quality Cbd, Chios mastic and chia seed extract that can be ingested or applied to cleansed skin at night before bed; the meditation mist to be sprayed on whenever we feel the need for a little reset and, thanks to essential oils with aromatic notes of orange blossom, bergamot, jasmine and geranium that purify the aura, release negative energies. The must-have is the moisturizer with anti-inflammatory cannabidiol, Icelandic wild plants (lichens, mosses and ferns) and bakuchiol that seems perfect for relieving redness, itching and dryness. Finally, there are the teas: the Thé de l'Aube, which contains rosemary, bay leaf, rosehip, ginger, nettle, lemongrass, Pu-erh tea, thyme and the hibiscus flower and the Thé du Crépuscule, a soothing power mix of chamomile, fennel, hops, lemongrass, elderberry, lemon balm, passion flower and cinnamon.
The entire communicative side of the brand embraces a witchcore aesthetic, made up of smoky images, crystals, plants, and videos in which the iconic supermodel of the 1990s dresses as an ancestral priestess of beauty or a mermaid immune to the passage of time who dives naked into a lake surrounded by wilderness. The glamorous and magical imagery, supported by cryptic captions announcing the arrival of products "meticulously crafted with wellness in mind, using effective and natural substances" designed to maintain the balance between body and soul, seems as far removed from the wasp and clean aesthetic of Goop, the beauty giant founded by Gwyneth Paltrow to which many believe Cosmoss is a kind of British answer. The comparison is inevitable, but if the American actress has always embodied a world of privilege, detox drinks, yoga, spas, and clean beauty that then, having archived her film career, evolved almost naturally into a full-fledged business project, many turned their noses up at the announcement that Kate Moss, always a symbol of excess, was about to embark on a similar path. Yet the key to Cosmoss' almost certain success lies precisely in Queen Kate's perfectly flawed attitude. Beautiful, always on the edge, the supermodel is at heart the girl we have all dreamed of being at least once in our lives, the one whose troubled existence of highs and lows has made her an icon capable of intercepting even commercially a certain weariness about the "clean girl aesthetic" and its unrealistic standards.