Doe eyes, the sweet alternative to Siren eyes
Eye make-up styles challenge rages on TikTok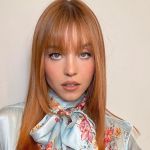 Doe eyes or Siren eyes? It's the beauty debate of summer 2022 that sees the two eye make-up trends of the moment competing on TikTok, but also on Instagram. The world of creators is divided between those who prefer the bewitching allure of siren eyes, with the characteristic eyeliner stretched outward inspired by the dangerous and seductive sea creatures of Greek mythology, and those, on the other hand, who choose the soft, deep and more natural look of doe eyes. With more than 358 million views on BeautyTok, the latter technique is inspired somewhat by Disney princesses, with their large, expressive eyes, but also by celebrities such as Sydney Sweeney, Anya Taylor-Joy, Ariana Grande, Anne Hathaway, Zooey Deschanel, Jessica Alba and Wolfie Cindy.
The real plus of doe eyes makeup is that it makes the eyes look bigger and deeper, eliminating the elongated pigtail typical, instead, of siren eyes. According to make-up artists such as, Tobi Henney and Melissa Hernandez,the secrets to achieving this magnifying effect are to play with the eyeshadow, distribute it in a rounded way, aim for a natural finish, use thicker eyeliner at the top, and highlight or lighter color of concealer at the lash line. Thanks to these hacks, the eye will optically appear "very big and bright."
To recap, if siren eyes are perfect for revealing our bewitching femme fatale side, doe eyes evoke the innocent elegance and sweetness of iconic divas like Audrey Hepburn. Recreating this type of make-up, as TikTok's many tutorials show us, is super easy, just abandon any graphic strokes or elongated lines, playing, instead, with eye shadows and pencils, preferably in shades of brown. Do not forget to use a white or beige eyeliner in the lower part of the eye and light, an illuminating pigment in the inner eye corner. The last touch? Swipe a lot of mascara in both upper and lower lashes, a bit Twiggy-like.