Glenn Martens' first perfume smells of jeans
D by Diesel is a gender-fluid, sustainable, and comfy like a pair of jeans olfactory trip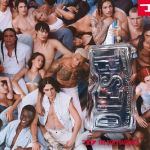 It is called D by Diesel, the first gender-fluid perfume overseen by creative director Glenn Martens that encapsulates the cool, sexy and irreverent mood of the brand founded by Renzo Rosso in just a few olfactory notes. Formulated in collaboration with L'Oreal by Givaudan perfumers Nisrine Grillié, Shyamala Maisondieu and Louise Turner, the new fragrance blends Madagascar bourbon vanilla and lavender Diva from Provence, both from sustainable sources, as well as cotton and ginger. The result is a warm, enveloping, sensual summer spray, made to be worn by anyone all day and on any occasion, like a comfortable pair of jeans.
As well as an olfactory and metaphorical inspiration, jeans were one of the starting points for the packaging design. The cap, in fact, recalls the rivets of a pair of Diesel jeans. In the bottle, refillable and made of 25 per cent recycled clear glass, the iconic Diesel For Successful Living logo is crushed and crumpled by a hand, as if the bottle were a sort of negative mould of the bottle of Only The Brave, the brand's first perfume with the characteristic fist shape.
D by Diesel was conceived to become the perfume of a generation, which is why its campaign focuses not on a single muse, but on a crew of 35 different models from around the world, including transgender activist Ella Snyder, 13 Reasons Why actor Deaken Bluman, Tiktok star Nathan Hopkinson aka Curlyfrysfeed, and creator, DJ and rapper Omizs.