Siren eyes, the look between filter and reality that bewitches TikTok
Make-up hacks to awaken the seductive side in all of us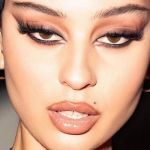 Have you heard of siren eyes yet? With over 671 million views, this is TikTok's latest viral make-up hack that invites you to unleash your inner dark femme and promises to make you seduce anyone with just your eyes. No small promise for what is essentially an upgraded version of cat-eye and fox eye, achieved by artfully mixing eye shadow and eyeliner to create a look so sensual that it matches the allure of the mythological creatures whose enchanting music and melodious voice lured sailors to their death. All you have to do is add a little attitude: raise your eyebrows slightly, half-close your eyes and mouth, and take inspiration from those who have possessed this ancestral art since time immemorial. Although the trend is still in its infancy, there are many celebrities who, unknowingly, are great masters of it such as Angelina Jolie, Bella Hadid, Rihanna, Kendall Jenner, Alexa Demie, Adriana Lima and Marilyn Monroe.
"This hypnotising look inspires obsession." One reads on TikTok, while another video compares the siren yes to the look one gets after "eating 39393 benadryl". @secretsofasiren, who has nearly 200,000 followers, promises: "When you master your siren gaze and now you can make men obsessed with you by just looking at them the right way. The siren gaze sends subliminal messages to a man that hits s3xl pleasure points. He won't even know why he is so addicted to you. This is the secret behind stars like Alexa Demie and Marilyn Monroe. Now it's time for you to tap into your feminine power". Yes, because the real secret of siren eyes is not just in applying eye shadow to perfection, but, as WitchTok teaches, it has to do with ancient, seductive and powerful female figures, examples of emancipated and magical femininity like the sirens who give the trend its name, but also like Lilith, Adam's first wife who was banished from the Garden of Eden for not obeying him.
How do you get the perfect mermaid look? From @daniellemarcan to @kmkzx, TikTok is full of tutorials teaching step-by-step how to use eye shadow, eye-liner and mascara to recreate the mythological seductress trend. First, apply a light dusting of grey or brown eyeshadow on the eyelids, under the eyes and then bring the two ends together in the outer corner. Create a small wing, continue the line to the center point of the eye and fill in the space, thus thickening the line, but remember not to extend the eyeliner to the inner corner. Then go over the upper and lower inner corner with eyeliner and blur slightly. A trick to accentuate the mermaid charm, giving the illusion that the eyes are bigger and more prominent, is to draw a brown line on the eyelid with an eyebrow pencil to achieve the so-called "aegyo sal" effect. Finally, curl your lashes with mascara. Et voila, you are ready to bewitch anyone you want!