Why Hailey Bieber has been accused of trademark infringement
A California fashion brand claims rights to the Rhode name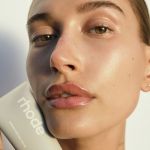 Not even time to debut its first products and Rhode is already at the center of a controversy. Hailey Bieber's beauty brand that promises a perfect "glazed skin" is being sued for trademark infringement and unfair competition by Purna Khatau and Phoebe Vickers, founders of Rhode, an eponymous Los Angeles-based fashion brand specializing in vibrant dresses and tops with Made in India prints. On Tuesday, the two designers filed a preliminary injunction in the Southern District Court of New York against Bieber stating in a post on their Instagram profile that:
"Today, we were forced to file a lawsuit against Hailey Bieber and her skin-care line that launched last week and that is using the brand name "Rhode." We didn't want to file this lawsuit, but we had to in order to protect our business. While a global brand, we are still a young and growing company, and we cannot overcome a celebrity with Hailey's following using our company's name to sell related products."
The statement goes on to say that although the model's brand focuses on beauty and Khatau's and Vickers' on fashion and lifestyle, the fact that they share the same name (the former chose it because it is her middle name, while the other two in honor of the Greek mythological goddess who protected the island of Rhodes) is inevitably causing confusion.
"Unfortunately, that Hailey is currently focusing on skin care while we focus on fashion has not been preventing brand confusion, and it won't in the future. We're both part of a larger beauty market in which fashion and cosmetics closely overlap and often collaborate. Hailey has stated that she wants to pursue a clothing line, and she even applied for "Rhode" as a trademark for clothing. We welcome competition - we just don't want competitors using our name."
The complaint also points out that in late 2018 Bieber and her companies tried to buy Khatau and Vickers' project, which includes three registered trademarks: one for clothing; one for handbags; and one for textiles, children's and women's clothing, hair accessories, dolls, puzzles and holiday ornaments. Obviously, she received a no response and the situation came to a breaking point.
Beyoncé
,
Tracee Ellis Ross
and
Hilary Duff
among its fans.
"We admire Hailey. She has worked hard and earned the ability to create her own skin care line. We don't want to sue Hailey; we want to celebrate her. As fellow women entrepreneurs, we wish her every success. Hailey has hard-earned star power and influence. She could choose any brand for her company. We have only the brand "RHODE" that we've built. That is why we ask her to change the brand of her new skin-care line. It clearly means a lot to her, but the brand Rhode is everything we have worked hard to achieve, and her using our name is hurting our company, our employees, our customers and our partners."
Will these words be enough to convince Hailey? For now, the model has made no statement regarding the trademark infringement allegations.