The first interactive cosmetics lab is coming to Milan
A multifunctional and experiential spot dedicated to beauty and wellness
Now there is a new place to be for beauty addicts in the city. It is called CITY LAB Cosmetics, is promoted by Angelomario Moratti and Inca Cosmetici, and will be inaugurated on 19 May in the heart of Milan's Brera district. This multifunctional space entirely dedicated to self-care will be the first interactive cosmetics laboratory in Italy. What makes it so special? The possibility of following step by step and with the guidance of an expert the creation of your own personal cosmetic product. The first step is to choose between textures, colours, fragrances, then the work passes into the hands of the exclusive laboratory staff who create before the customer's eyes a unique and special product, designed to suit their personal preferences and needs. After about an hour here is the cream or lipstick ready to take home and try on, thus enhancing the daily beauty routine.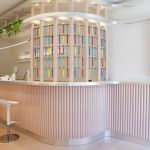 CITY LAB Cosmetics offers three innovative beauty experiences: Lipstick, Skincare and Armocromia. During the first, priced at €60 per person, a customised lipstick is made, choosing the texture, creating your own colour, adding the active ingredient to the formula, the aroma and much more. Skincare provides the customer with a beauty expert who, after analysing the skin of the face, accompanies the customer in choosing the texture of the face cream and serum, created together with the R&D formulator. The cost? 90€ per person. Finally, there is the Armocromia option. Every Tuesday, an expert suggests how to enhance the complexion with the right shades, found according to one's season of reference. At the end of the experience, you receive an eyeshadow palette with your own colours dictated by Armocromia. The price is 180€ per person.
If you would like to book or find out more about CITY LAB Cosmetics' services, visit the website.