Must-see events at Milan Beauty Week
From the Chanel N°5 voyage of discovery to the Filorga Temporary Beauty Lounge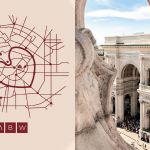 The first Milano Beauty Week will take place from 3 to 8 May. All make-up, skincare, perfume and haircare addicts will have the chance to discover brands and new products in the sector by visiting the Beauty Village Palazzo Giureconsulti, in Piazza dei Mercanti 2, the real heart of the event. Here there will be stands, talks, meetings, interviews, workshops and experiential laboratories linked to the world of cosmetics. In short, there will be many interesting meetings, and we would like to highlight three of them. Let's start with the meeting on the Economy of Cosmetics, during which we will discuss how the cosmetics industry is one of the jewels in the Made in Italy crown, with a turnover of 11.8 billion euro and an export value of around 40% of production. Also not to be missed is the talk La bellezza è multicolor, where experts such as Lisa Brugin, Earned Media Manager of the Estée Lauder Company, will explain the role of make-up in a multi-ethnic society, first explaining how to approach different cultures and then how to get to know people's chromatic and morphological differences, how to dose colour, and which type of product to use. In a way, Maneskin will attend the Milano Beauty Week, through their make-up artist Chantal Ciaffardini, who will be among the hosts of a talk on non-binary beauty.
Here are the other not-to-be-missed appointments at Milano Beauty Week that will involve, among others, major players such as L'Oreal, Chanel or Estée Lauder and emerging brands such as Comfort Zone and Skinius.
Estée Lauder Companies
3/7 maggio h 10 - 20.30
Rinascente Milano, Mazzolari Milano, Sephora Corso Buenos Aires
From 3 to 8 May, Estée Lauder will offer two must-see events. The first is an olfactory journey to discover the Tom Ford Private Blend collection, a truly emotional experience and can be completed with the Style Your Wardrobe masterclass to discover Mr. Ford's olfactory wardrobe, which will be held at Rinascente Milano. The second, also at La Rinascente, is perfect for all skincare addicts: you can enjoy mini facials and customized consultations to discover the secrets of the new Revitalizing Supreme+ cream formula. Moreover, every evening, from 5.30 pm to 9.00 pm, there will be the Makeup Happy Hour, a free make-up service during which consumers can test the new Estée Lauder make-up formulas and textures. The Sephora stores in Corso Vittorio Emanuele 24 and Corso Buenos Aires 41 are the right places to try out the personalized services and benefits of Re-Nutriv products. Reservations are recommended.
Chanel Beauty
3/8 May h 3 - 4.30
Perfume Museum Via Messina, 55
Perfume lovers should not miss the Museo del Profumo, which during Milan Beauty Week will guide visitors through the mysterious perfume created by the decadent poet Gabriele d'Annunzio and reveal all the secrets of Chanel N°5 Gabriele d'Annunzio's perfume and the mystery of Chanel N°5. One hundred years after its creation, what makes it still the best-selling perfume in the world today? Vintage bottles and historical photographic images will reconstruct the story behind the cult item of the French Maison. Reservations are required and entrance costs 15 euros.
MAC Cosmetics
3 to 8 May
MAC Via Dante, 8/A; MAC Via Torino, 18 and MAC Corner La Rinascente Milano Piazza Duomo.
Have you ever dreamed of having a makeover like Anne Hathaway in The Princess Diaries? After visiting the MAC stores (on Via Dante, Via Torino and in the Corner at La Rinascente Duomo) and having a free make-up application session by appointment, you could transform yourself into a cool princess. In addition, the MAC point of sale in Via Dante 8/A will host a Body Painting event inspired by the mantra All Ages, All Races, All Genders.
L'Oreal
3 to 8 May
Douglas, Sephora and Rinascente
L'Oreal brands are big stars of Milan Beauty Week with many different appointments, one of which is perfect for suggesting the right gift for Mother's Day on Sunday 8 May. In all Douglas, Sephora and Rinascente perfumeries you can discover and buy La Vie Est Belle. Lancome's iconic fragrance is also available in a special gift box that includes a 50ml bottle of perfume and precious body milk and shower gel in a travel size.
Skinius
From 3 to 8 May, during the first edition of the Milano Beauty Week, Skinius has scheduled many events, both in its Partner Pharmacies and on its social channels, to present its new products and best sellers. The most interesting projects of the dermatological brand of functional cosmetics 100% made in Italy and dietary supplements are two united by the mission #cellulefelici: a free workshop and the exclusive Skinius Skin Bar. The workshop, which will be held at Lafarmacia.Centro, will provide the tools to get to know our skin, understand which products are essential and how to correct minor imperfections, thus teaching us the correct beauty routine specifically for eye contour, neck, décolleté and hands. The Skinius Skin Bar, set up at Palazzo Giureconsulti, will offer the opportunity to have the professional patented FOSPID-UP facial treatment and to have a consultation with an expert dermatologist on the well-being of the skin.
Workshop
4 May from 6 to 7 p.m.
Lafarmacia.Centro, Via San Prospero, 1
Skinius Skin Bar
7 May from 1 to 8 pm
Palazzo Giureconsulti, Piazza dei Mercanti, 2
Collistar
May 6th
Villa Necchi Campiglio, Via Mozart 12
On May 6, Villa Necchi Campiglio becomes "Casa Collistar", a day dedicated to the discovery of the Italian Essence of beauty. The brand, with the strength of its values, its sustainability and its best-selling products, as well as iconic and indispensable treatments for many women, will offer visitors a multisensory path and 2 masterclasses of live make-up with Massimiliano della Maggesa and Francesca Stefani, Collistar make-up artists, and 2 masterclasses of live Face Training® with the well-known influencer Veronica Rocca, to learn how to maximize the benefits of the skincare routine.

Rilastil
Rilastil, the historic brand of Istituto Ganassini, born 50 years ago and always synonymous with efficacy and dermatological safety, has chosen the week dedicated to the culture of beauty and well-being to dedicate itself to the prevention of skin cancer. In collaboration with the ANT Foundation, it is inaugurating a tour for the early diagnosis of skin melanoma with free daily dermatological checks on board the ANT mobile clinic.
When: from 3 to 8 May from 9am to 6pm
Where: Piazza Giuseppe Missori
Filorga
On 3 May, Filorga is inaugurating a Temporary Beauty Lounge that will remain open until 31 August 2022 at Milan's Central Station, in the Galleria dei Mosaici, on the platform level. Here, the skincare brand founded in 1978 will offer visitors the chance to discover its most famous products and treatments such as Time-Filler, Global-Repair, Optym-Eyes, Oxygen-Glow or Skin-Unify. The brand's experts will be there to assist you on this journey into the world of Filorga, as well as an interactive screen and a digital skincare bar.
from 3 May to 31 August
Milan Central Station (Galleria dei Mosaici on the platform level), Piazza Duca d'Aosta, 1
Somatoline
If you book in one of the selected pharmacies in Milan, from 3 to 7 May, you will have the opportunity to have free treatments in a cabin lasting 30/40 minutes with Somatoline SkinExpert products. You will be able to choose between a facial or a body treatment and which products to use, according to your skin type and personal needs, perhaps with the new Shot Anti-Gravity and Vitamin-Shock SOS or with the Draining Bandages. The Plus? At the end of the treatment, you can buy Somatoline SkinExpert products at a special price. Reservation required.
from 3 to 7 May
Canonica chemist's shop via Luigi Canonica, 32; Raimondi chemist's shop Largo la Foppa, 1; Affori chemist's shop via Alessandro Zanoli, 3; Cairoli Stilo chemist's shop via San Giovanni sul Muro, 9; Cofa Vercelli chemist's shop Corso Vercelli, 5.
Comfort Zone
For the entire duration of Milano Beauty Week, the Comfort Zone centers in the city are offering a free skin consultation and the possibility of a 30-minute express treatment at the special price of €30. Just book with the code MILANOBEAUTYWEEK. In addition, on Friday 6 May, the beauty centers and spa partners of the B corp brand created in 1996 by Dr. Davide Bollati, pharmacist and chairman of the Davines Group, will offer visitors a glass of wine while a team of beauty experts explains the advantages of Comfort Zone products and how to use them to best effect.
from 3 to 8 May from 10 am to 8 pm
Comfort Zone Space Milano via Brisa, 7; Spy Hair & Beauty via Palermo, 1; KULT Milano Corso San Gottardo, 3
Miamo
Miamo, a brand of functional cosmetics created in 2012 by pharmacists (but also mother and daughter) Elena Aceto di Capriglia and Camilla D'Antonio, will have a beauty corner dedicated to beauty treatments in the headquarters of Milano Beauty Week inside the historic Palazzo Giureconsulti. The appointment not to be missed is on 5 and 6 May at the Cairoli pharmacy where you can have a free skin analysis with the Miamo Skin Analyser machine. This is an advanced facial analysis technology that can identify up to 10 skin problems, from wrinkles to spots, in just 25 seconds. In addition, the brand will provide a Face & Body Therapist who will offer consultations in 16 partner pharmacies across the city.
Miamo Skin Analyser
When: 5 and 6 May from 9am to 7pm
Where: Farmacia Cairoli - Farmacie Stilo Milano via San Giovanni sul Muro, 9
Beauty and Luxury
On Saturday 7 May, visitors will be able to visit an interactive exhibition telling the story and the novelties of 8 brands: Montblanc, Coach, Moncler, Philipp Plein, Elie Saab, Iceberg, Elizabeth Arden and Olaplex. It will be a journey through fragrances, skincare and haircare featuring real masters of the Beauty and Luxury sector.
7 May from 2.30 p.m. to 8 p.m.
Palazzo Giureconsulti, Sala Colonne Piazza dei Mercanti, 2
Davines
Davines, a well-known brand of professional hair cosmetics with a mission to create sustainable beauty, will be offering an express styling service in collaboration with the My Place Hair Studio team inside the Beauty Corner at Palazzo Giureconsulti. This is a made-to-measure service that in just 15 minutes will give you a cool hairstyle, created using the Davines More Inside line and playing with lengths and textures.
from 3 to 8 May
Palazzo Giureconsulti, Sala Colonne Piazza dei Mercanti, 2