What does Pat McGrath entrance in the skincare world means
The "Mother" of make-up launches her first skincare product going forward on the market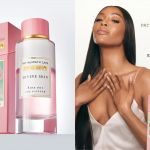 It's no coincidence that her fans call Pat McGrath "Mother of-make-up": her savoir-faire and experience from a self-taught passion has led her to be the number one make-up artist on the international scene, capable of inspiring many young women to take the plunge towards the realization of their dreams. In addition to her Pat McGrath Labs maternity line coveted by all beauty enthusiasts and recognized for its quality among industry insiders, the makeup artist has also created Pat McGrath Labs Skincare, which will launch on the brand's online site on April 29 with a single product, the Divine Skin Rose 001 latigo-textured essence, and a campaign featuring none other than Naomi Campbell as the star and first tester for the product, which has been secretly used by the supermodel and other celebrities as a skin prep in recent major photo shoots, such as Kristen McMenamy when she walked the Valentino Haute Couture runway in March.
"It makes everything glow and plumped up, which is important to me because I'm on set all the time, and in front of lights, or on planes, and my skin gets dry and really dehydrated no matter how much water I drink. I usually sleep straight through flights and with this product, when I wake up and I'm still glowing."
said Naomi in an interview, recounting the mission of the product formulated in a top-of-the-line Korean lab where the Rose Biotic ingredient was patented that along with the properties of Damask Rose works to calm, balance and fortify the skin barrier while providing deep hydration.
The result of years of lived experience on the skin and a savvy strategy that showcases product results prior to the launch of the reference itself, Pat McGrath Labs Skincare is a step forward by the founder into a thriving market sector that is set to grow globally in the near future, approximately 5.52% over the forecast period, 2021-2028, surpassing even the make-up market that will hypothetically grow 5.2% after seeing a sharp decline - approximately -24.5% in 2020 - in the pandemic biennium according to Fortune estimates. Strategically, extending the brand into a new product category demonstrates how the thirst for skincare fueled by the pandemic will continue to grow and can become a segment in which brands with a history and a large audience can continue to invest.
Of course, the iconicity of the make-up line is not diminished by the newcomer.When the brand launched in 2015 first in the U.S. and then around the world it had been a strong success, so much so that it sold out in 40 seconds upon release at Selfridges in 2019, because Pat's aesthetic has created an active global community around the brand, who loyal by common values and needs that are profiled as possible consumers of high-end skincare products. Pat revealed that a whole range of skincare products are on the way, the second of which to launch will be HydraSphere 18, an emulsion enriched with botanical-derived oils and ceramides again inspired by K-Beauty in lightness and specificity, but premium in both packaging and end result, to be as beautiful as Naomi.