Chiara Ferragni will launch a line of fragrances
The businesswoman will debut her first perfumes in 2023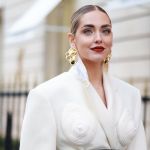 Chiara Ferragni is unstoppable. The digital entrepreneur is increasingly determined both to confirm her role as the most relevant woman in Europe and to make her eponymous brand a real lifestyle brand. So, after introducing a line of baby and kids' clothing, a line of jewellery and her first make-up collection available exclusively in Douglas Perfumeries in recent months, she has announced that a fragrance line will also be launched in 2023. The new range of products, which will be developed in collaboration with Angelini Beauty, an international leader in the perfumery, skincare and suncare sectors, represents an important milestone for Chiara:
"I am very proud of this agreement because it will complete the Beauty offer of the Chiara Ferragni brand. The fragrance world is an additional opportunity for growth of the brand and the last element for the creation of a lifestyle brand."
No word yet on what the bouquet of fragrances will be, but it is easy to imagine that the packaging will be sustainable, in shades of pink and light blue, colors that have so far characterized TBS items, and will have Chiara's eye logo in the foreground. It is possible that Ferragni will follow the example of Harry Styles and his Pleasing, and focus on genderless products, while it is almost certain that, as with the cosmetics line launched in December, the fragrances will also be based on the idea of empowering beauty. These are the words of Lluís Plà Fernandez-Villacañas, President and CEO of Angelini Beauty S.p.A.:
"We are very proud to announce the collaboration with Chiara Ferragni, a digital entrepreneur who has skillfully combined her unique style and an innovative entrepreneurial approach over these years. The agreement, which marks Chiara Ferragni's debut in the fragrance sector, underlines Angelini Beauty's ability as an industrial partner to interpret the expression and personality of the brands it produces, also by making use of its experience in the positioning and selective distribution of the products on international markets."
The appointment with the first line of fragrances by Chiara Ferragni is for 2023.