Will there be a "Call Me By Your Name 2?"
The new movie could focus on the character of Elio and his evolution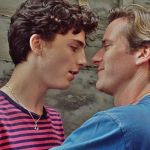 For years rumors have circulated about sequels to Call Me By Your Name, but now the possibility seems more real. New statements by Luca Guadagnino leave fans of the cult movie hoping to see Timothée Chalamet again in the role of Elio, the 17-year-old who, during a 1983 summer spent in the countryside of northern Italy, falls in love and handsome Oliver who then breaks his heart, leaving him in tears. In a recent interview during the Telluride Film Festival, the Sicilian director ventilated the possibility of a second chapter in the story, which, however, he would not call a sequel ("A sequel is an American concept"), but a new film centered on Elio: "It's more like the chronicles of Elio, the chronicles of this young boy becoming a man. It is something I want to do."
This is not the first time Guadagnino has hinted at Call me by your name 2. A couple of years ago he speculated about a new chapter in the story that would take up the original ending with Elio crying in front of a lit fireplace, but would be set in 1989 Paris. Then, during the 2020 lockdown, he declared that he wanted to work on a film adaptation of Find me, another novel written by André Aciman, author of the book from which the masterpiece with Chalamet is based, and that he had already found the right screenwriter to work on the script after James Ivory, who won an Oscar for his adaptation of CMBYN dropped out. Despite the encouraging premise, the film seemed to have stalled for good, scuttled by Guadagnino's more pressing projects such as Bones and All and the remake of Scarface, but, above all, by the sex scandal laced with so much cannibalistic text messaging that engulfed Armie Hammer, who was apparently to return to Timmy's side in the supposed sequel to CMBYN.
Now, Guadagnino's intentions seem to have changed again, and the director says he is hopeful about the future of a new CMBYN, but more importantly, about working (for the third time) with Chalamet again. The director made it clear that he has always maintained contact with the actor: "It's not as if I left Timothée at the height of his booming success, and then I found him four years later. We kept close. I knew that there was not much time to wait until we worked together, but only for the right project." And he added that the relationship between the two is great: "From the beginning with Timothée, he made a point to make me feel like I deeply belonged with this group of people, that nothing I could do would be bad, and if I felt any sort of insecurity I could talk to him and he could comfort me. There's a safety net we shared where there was no judgment."
After the cannibal love story of Bones and All premiered at the Venice Film Festival, which will be released in theaters on November 23, will Call me by your name 2 be the right project to share with Timmy that Guadagnino talks about? We hope so.