Are flip flops back in style?
Kendall Jenner and other celebrities have turned flip-flops into the cool shoes of summer 2022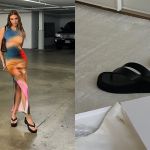 Over the past few years, ugly shoes have become a fashion item par excellence, almost an exercise in style that every brand and designer, from Christopher Kane to Balenciaga to Nicole McLaughlin's DIY experiments, has been asked to come up with new versions destined to sell out in minutes. In the beginning it was Crocs, but this season another model of footwear is dominating the coming summer, flip flops.
Flip-flops have been around for over 3000 years. They were already a popular trend in ancient Egypt and since then, we have never stopped wearing them. We may have just left them at the back of the wardrobe for a while, but, as fashion teaches us, it all comes back. Those who hate flip flops will probably continue to do so, but those who love them and find them a fresh, easy alternative to heeled sandals and trainers will be more likely to wear them in the coming years. Kendall Jenner is to blame for their comeback, as she has been all over Instagram in recent weeks, sporting flip flops in three different outfits, all of which are worth copying. In the first shot the model wears a multicolored blur effect dress from Loewe SS22 collection with a minimal tote by St. Agni and leather platform thong sandals by Dries Van Noten, while in the second one she pairs the same sandals with a white tank top by Bassike and a pair of green wide-leg trousers by Gauchere. During the Revolve Festival Kendall opted for a total white look consisting of a tank top, wide-leg multi-pocket pants by Local European and the very popular Ginza suede sandals by The Row.
The Row model is definitely the most coveted, but many brands, both low cost and luxury, are pushing to banish fragments of memories in which flip-flops were not exactly the height of style. The idea is to return to seeing flip-flops not only as a symbol of summer, a recurring icon in the typical polaroid of Cali girls in front of the ocean, but as a fashion item to be worn with everything, from power suits to mini dresses. There are many different variants available: from those decorated with iridescent beads seen on the Coperni catwalk to the Selene by The Attico with their Y2K design; from the model with feathers by Rejina Pyo to the Lou by Gabriela Hearst, which feature a patchwork rainbow sole, stitching and crochet upper; from Amina Muaddi Jamie fluo sandals to Miu Miu's inflatable version that looks like a more minimal reinterpretation of Sugar Floaties, the soft, platform flip-flops in an infinite range of bright colors and patterns that were all the rage in the early 2000s.
Our tip is to go for the chunky, inflatable style that Jennifer Aniston, Christina Aguilera and Britney Spears wore on their feet in the early 2000s.