Byredo revolutionises high jewellery with Virasaat
A collection dedicated to Indian heritage
Byredo, the renowned fragrance brand, is preparing to take a significant step into the world of high jewellery. The brand's debut in this new product category is scheduled for the end of November.
"Virasaat": a tribute to tradition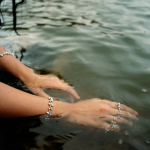 The debut collection called 'Virasaat' (a Hindi word that translates to 'heritage') is a tribute to the rich Indian heritage of BYREDO's founder Ben Gorham. The collection is a fusion of craftsmanship and cultural homage, showcasing pieces crafted in 18-karat gold and sterling silver. Each piece in the collection, which includes elegant necklaces, bracelets, rings and earrings, is carefully crafted in Italy. The designs feature intricate patterns of intertwined circles and stripes, evoking the elegance and sophistication of pearls.
Exclusive pre-sales and availability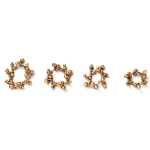 The 'Virasaat' series will be available exclusively in BYREDO's boutique on Rue Saint-Honoré in Paris from 30 November. The collection will then also be available in other BYREDO flagship boutiques from 25 January. The prices for these exquisite pieces of jewellery range from 350 to 27,000 US dollars.
This sublime fusion of tradition and modernity, of craftsmanship and fascinating design, makes BYREDO's 'Virasaat' collection an irresistible option that combines the desire for eternal beauty with the search for a connection to one's cultural roots. The preciousness of each piece lies not only in the gold and silver, but in the essence of a heritage that is passed on through the jewellery and makes the wearer part of a timeless story.