How to wear Bermuda
Inspired by the catwalks and celebrities
Not just hot trousers and shorts. Trousers for summer 2023 are getting shorter, but not too short. The height approaches the knee without going above it, allowing the legs to breathe freely and be easily flaunted both on the beach and in the city. So let us get ready to add Bermuda shorts to our shopping list. Maybe we can take advantage of the upcoming seasonal sales to follow the example of Bella Hadid and all the other celebrities who wear them for every occasion, from drinks with friends to walking the dog. The reason they all can not do without them anymore? Their versatility. They come in many styles, from classic and fitted, perfect even for the office, to oversized cargo trousers with pockets that recall the style of the early 2000s, without forgetting the jeans or jorts that you can easily copy.
Originally from the British archipelago of the same name in the Atlantic Ocean, in 1914 Nathaniel Coxon, the owner of a tea house in Bermuda, decided to shorten the uniforms of his employees so that they could work despite the hot temperatures typical of the tropical climate. in 1914, they became a local must-have and caught the attention of British Navy soldiers who stopped off in the western part of the Sargasso Sea during their military expeditions. While they have since made their way into the wardrobes of men all over the world, it was not until much later, in the 1960s, that they became an essential part of women's wardrobes, thanks to the pin-ups, as they embodied a certain spirit of freedom and dynamism. Over the decades, they have had a changing fortune, but thanks to the rise of quite a bit of luxury, the designers who brought them to the catwalk and the It girls who have been wearing them more and more lately, they are slowly becoming popular again.
Bermuda shorts loved by celebrities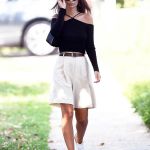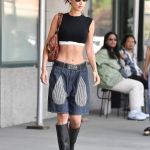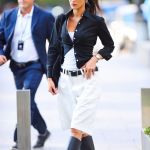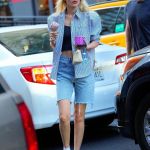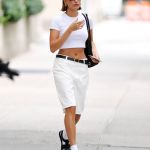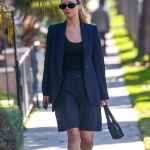 Fashion insiders, trendsetters and celebrities often wear them in everyday life. Jennifer Lawrence, who chooses them in light fabrics and blue, likes them for their simple elegance, while Gigi and Bella Hadid and Hailey Bieber's favourites are in demim, frayed hem or white or ecru canvas, worn with cropped tops, T-shirts, trainers, loafers and low sandals. Emrata also often wears them when walking her dog or walking around New York with her son. The model also loves jorts, but also dressier styles, loose and with darts and always declined in neutral tones to make it easier to find the right combinations.
Bermuda shorts at the SS23 fashion shows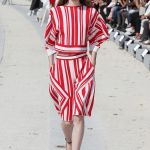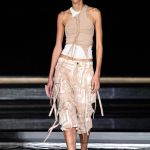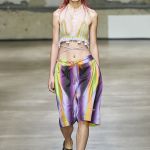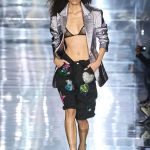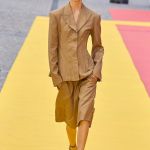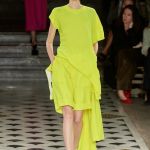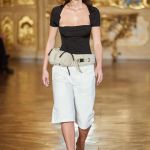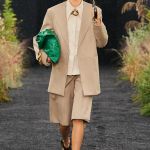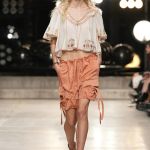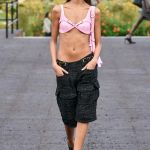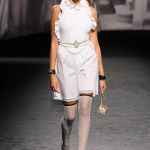 Also on the catwalk, Bermuda shorts keep their versatility and, depending on the brand and the design, become chic, practical or perfect for a surfer girl, like the models proposed by Ester Manas. Jil Sander and Stella McCartney, on the other hand, offer them with matching blazers that highlight their sartorial side and give us looks to copy for summer at the office. Givenchy and Isabel Marant pay homage to the early 2000s by giving them a cargo version with pockets, while Tom Ford has added fun patches. Trussardi suggests pairing them with fanny packs, Undercover tries them in fluo and upgrades them with monochrome looks. Even Chanel was convinced of the Bermudas' charm, but decided to give them a romantic touch.
Bermuda shorts to buy this summer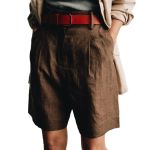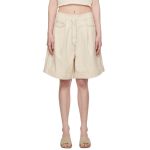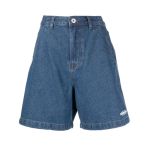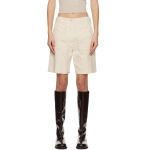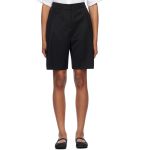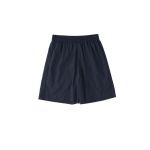 There are many different models on the market from which we can choose depending on our personal style. Michela Meni Studio makes them in Italy from deadstock fabrics and offers them in linen, while Studio Nicholson, the brand founded in 2010 by Nick Wakeman, offers a model very similar to Jennifer Lawrence's. If you prefer jorts, look out for vintage shorts or try making them yourself, perhaps following the tips from TikTok, or Chocolate has a very cool model.The cargo Bermuda shorts from Nothing Written and Spanish Cordera are interesting. If you are looking for something indispensable, the shorts from Japanese brand AMOMENTO are the right choice for you.