10 Iconic little black dresses on screen
From Breakfast at Tiffany's to The Devil Wears Prada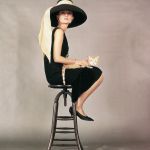 Every mother tells her daughters again and again: a little black dress is one of the indispensable things in your wardrobe. It's versatile, chic and can be transformed by a change of accessories, hairstyle or make-up, making us perfect for any occasion. The many film divas who have worn it on screen since Clara Bow in the silent film It know this perfectly well. Audrey Hepburn, Anita Ekberg, Demi Moore, Angelina Jolie, ... the list of names is very long, a symbol of the eternal charm of this garment, capable of adding character and making the scenes of a film even more memorable. After all, what would Breakfast at Tiffany's have been without Holly Golightly's black sheath dresses?
G-Club has selected 10 models that are among cinema's most iconic LBDs.
Grace Kelly in Rear Window, 1954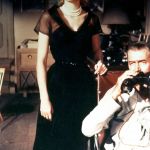 What made Grace Kelly a style icon was not only her beauty, charm and outfits in private life, but also the many looks of her characters, silly and sophisticated women like Lisa Carol Fremont in Rear Window. In Alfred Hitchcock's masterpiece, the actress plays the elegant socialite and mistress of LB "Jeff" Jefferies (who has the face of James Stewart) and changes into six outfits, one more exquisite than the other and all designed by the famous costume designer Edith Head. When she appears on screen for the second time, Grace/Lisa is wearing a black pleated silk organza midi dress with sheer cap sleeves and a small belt at the waist to accentuate her wasp waist. Around her neck she wore a three-strand pearl necklace with matching earrings. Her perfectly wavy blonde hair and the red lipstick on her lips completed the effect Hitchcock wanted to achieve with the figure's appearance, namely that she "looked like a piece of Dresden porcelain, almost untouchable".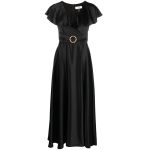 Anita Ekberg in La Dolce Vita, 1960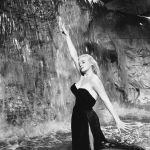 "Marcello, come here! Hurry up!" A line and scene in which Anita Ekberg asks Marcello Mastroianni to dance with her in the Trevi Fountain have become iconic, as has the black satin dress with a sweetheart neckline and deep side slit that the actress wore. The 1962 film won the Oscar for Best Costume Design also for this creation, which made the actress an unforgettable mermaid. A curiosity: the inspiration for Ekberg's dress was the model signed by Jean Louis for Rita Hayworth in Gilda, which in turn was an homage to the one in John Singer Sargent's Portrait of Madam X.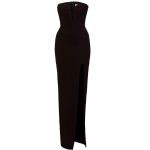 Audrey Hepburn in Breakfast at Tiffany's, 1961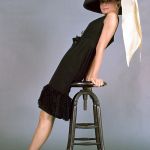 One associates the image of the little black dress almost immediately with Audrey Hepburn. In Breakfast at Tiffany's, the actress playing Holly Golightly wears several, including the legendary Hubert de Givenchy dress as she spears a croissant outside the Fifth Avenue jewellery shop. Equally memorable and chic are the model with the feathers and the midi dress she combines with a wide-brimmed hat.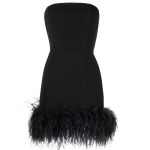 Catherine Deneuve in Belle de jour, 1967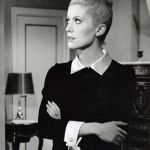 The costumes for the film directed by Luis Buñuel were designed by Hélène Nourry, except for the one Catherine Deneuve wore. She wanted Yves Saint Laurent to do the wardrobe for the role of Séverine Serizy. The result was a stunning selection of patent leather trench coats, short double-breasted coats, jumpers, elegant suits and A-line dresses in neutral tones. Among all these looks, the black sheath dress with contrasting white satin collar and cuffs stands out, remaining one of the most iconic dresses in film history and also one of the most copied by fashion. Perhaps without this elegant yet well-appointed creation.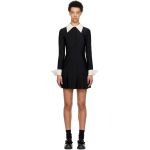 Mireille Darc in Le Grand Blond avec une chaussure noire, 1972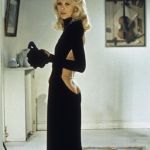 Apart from die-hard cinephiles, not many probably remember that Le Grand Blond avec une chaussure noire revolves around François Perrin, a hapless musician who poses as a spy, but many do remember Christine, the film's femme fatale, played by Mireille Darc. The subject is perhaps one of the most sensual dresses seen on screen: a sumptuous black velvet gown designed by Guy LaRoche, with an austere exterior that in reality conceals a very deep cut-out in the back that hugs the curve of the buttocks. The dress is now kept at the Musée des Arts Décoratifs in Paris and remains one of the most iconic LBDs in film history, but also one of the most copied by brands and designers. Remember the Givenchy model worn by Kim Kardashian a few seasons ago?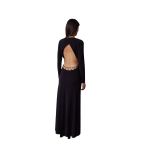 Julia Roberts in Mystic Pizza, 1988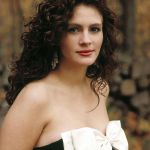 The bow dress is back in fashion. It was also in the 1980s when a very young Julia Roberts made her debut in her first leading role in Mystic Pizza. The star plays a waitress in a pizzeria, a watery girl looking for love with long curly hair, always dressed in mom jeans and T-shirts. Her most stylish moment is the LBD she wears on a romantic date with her crush.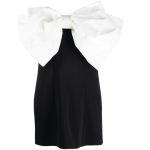 Demi Moore in Indecent proposal, 1993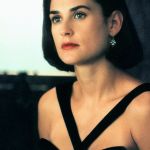 Demi Moore was fabulous in the 1990s. So were many of her on-screen outfits, which, while often underrated, were still cool. One of her best fashion moments was in 1993 and the film Indecent Proposal, thanks to a very special LBD. At one point in the film Diana Murphy, the character played by the star, is seen browsing in a luxury boutique and dreaming of wearing a Thierry Mugler signed cut-out model worth $5,000, part of the Cowboys collection presented on the catwalk SS in 1992. Later it was the rich tycoon played by Robert Redford who gave it to her in another attempt to seduce her, having already offered her and her husband a million dollars in exchange for a night of sex with the beautiful Diana. In 2012, Time magazine included it in its list of the 11 most iconic little black dresses in history. What makes it unique? The cut-out bodice on the tapered cups and the two wide, criss-crossing straps, an interplay of solids and voids between the fabrics that made it a glamorous symbol of the 1990s and beyond.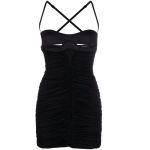 Jamie Lee Curtis in True Lies, 1994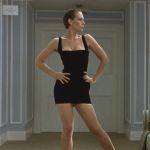 In True Lies, Jamie Lee Curtis is Helen Tasker, the wife of international spy Harry Tasker (Arnold Schwarzenegger), a paralegal bored with everyday life who must seduce a stranger in a hotel room in search of adventure in a scheme hatched by her husband. The dress she wears for company is a small black stretch dress with a square neckline and an ultra-minimalist style that is still very current today.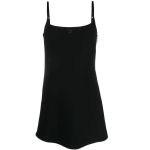 Angelina Jolie in Mr & Mrs Smith, 2005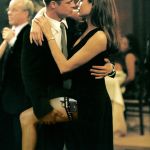 Mr & Mrs Smith is the film that Brad Pitt and Angelina Jolie fell in love with. Who knows if the clothes the actress wore in the spy version did not play a part in sparking the pair. Among the film's most memorable fashion moments are the white men's shirt, the strapless fetish-style latex dress and the elegant black evening gown with a deep slit from which a pistol attached to the garter belt stands out. A series of deadly looks that impressed Brad Pitt, among others.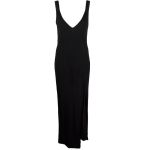 Anne Hathaway in The Devil Wears Prada, 2006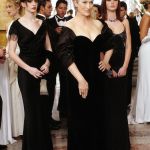 Patricia Field is behind the costumes in The Devil Wears Prada and Andy Sachs' transformation into a fashionable girl. Throughout the film, Anne Hathaway's character wears many outfits, but her true Cinderella moment occurs during the runway charity gala, where she wears a sculptural column dress with lace sleeves. It's no coincidence that her boyfriend Nate, although disappointed that she missed his birthday, says to her, "You look really pretty."