Trend SS23: Crochet Mania
We thought it had passed and instead...
On TikTok it has an impressive 12.4 million views, numbers that take away any past crochet and put it back in the Olympus of trends in 2023. Although its origins have been lost in time, examples of this textile art have been found in the East, as well as in Africa, Europe and North America. In the 1500s, Italian religious orders used the crochet technique to make addops and decorations. The types of workmanship are so varied that fringes, webs, spider webs, floral motifs and lace can be found in the shows and looks of celebrities in all parts of the world. Here's a mini-guide between catwalks, styling and targeted shopping.


Which celebrities love crochet?
Kendall Jenner
opts for an oversized hooded jumper with maxi pom poms to finish it off. Orange and pink striped hat, coloured top and mini for
Hailey Bieber,
"granny square" coat in shades of black, beige and brown for
Gigi Hadid
who accompanies him with black skinny trousers, white t-shirt, nude sandals and round glasses, "granny square" dress also for
Chiara Ferragni
, but in bright colours and strong cut-outs, pristine white for
Bella Hadid
, who goes for head-to-toe crochet, with a bra-effect crop top and sheer trousers.

Crochet at the SS23 fashion shows
Long dress with ballerina fringe for
Khaite
, aqua green for
Frederick Anderson
's one-shoulder longuette, navy just enough for
Celine
, who pairs a cream crochet piece with a leather jacket, combat boots and military-look hat, pink and red for
Blumarine
, who pairs a top with small letters. The trousers with extra long sleeves and ruffles are finished off with cherry red shoes and a bag.

Crochet in the Summer 2023 Shopping Season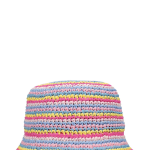 .
.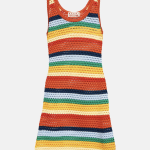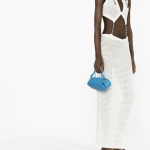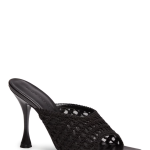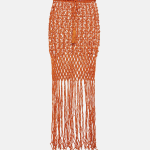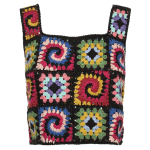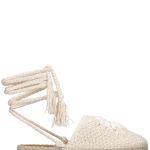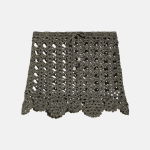 Multi-coloured cotton and black ribbon for
Miu Miu
's crop top, pastel colours brightened by shocking pink for
Missoni's
hat, composite stripes of orange, blue, green and yellow for Marni's mini dress, all-black fabric and heel for
Magda Butrym
's mules, a mix of pink for the mini bag by Forte Forte, white and strategic cuts for the long dress by
Casablanca
, orange juice and Gypsy Grange for the skirt by
Anna Kosturova
, natural cotton and a play on laces at the ankle for the espadrilles by Alanui, bright green, striped cotton and crocheted edges for the polo shirt by
A.L.C.
, bright yarns and sexy transparencies for the mini by
Ganni
, classic coloured checks on a black background for the top by
Stand
.