SS23 color trend: mint green
The delicious, fresh shade, ideal for clothing and beauty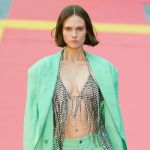 Everyone knows that green is the colour of hope and that in ancient Egypt it was a symbol of regeneration, health and rebirth, being associated with vegetation and growth. Mint green or, in its gentler manifestation, teal, on the other hand, is particularly associated with the concepts of perseverance and endurance, well-being and fertility. It seems that our organism reacts positively to this shade, so much so that colour therapy theorists believe it can restore harmony to the organism, relax muscles and lower stress levels. Perhaps this is why designers have fallen in love with this shade and keep including it in their collections, especially those for the warm seasons. As if wearing this particular shade, which is not so much reminiscent of the colour of the plant from which it takes its name, but of the delicious drink that comes from mixing milk with mint syrup, could restore the same feeling of freshness as drinking it.
As fresh and delicious as a sorbet, as delicate and romantic as a pastel shade, mint green is one of the designers' favourite colours for the summer season. Chanel and Rochas combined it with white for a cardigan and a trouser suit and for trench coats with a mini skirt and a cuissard, making two very chic looks that can be worn from morning to night. Stella McCartney chose it as the fil rouge of her SS23 collection to add oomph to suits with blazers and oversized trousers, dresses with capes made even more glamorous with jewelled details. Christian Wijnants used mint green to accentuate the relaxed mood of his loose-fitting trousers and shirts, while Christopher Kane brought out his sexy side by colouring his boudoir-inspired creations in the colour. At Max Mara, it adds a sophisticated vibe to coats, shorts and bralettes; at Lanvin, Giambattista Valli and Philosophy by Lorenzo Serafini, it's the perfect declination for mini dresses that can be worn all summer long. At Fendi and Sportmax, it's the pastel shade for trench coats, pencil skirts and jumpers. Giorgio Armani combines it with digital lavender and Dries Van Noten with brown, both creating a very sophisticated effect that you should definitely emulate.
Mint green not only colours clothes, but also make-up, and is the perfect solution for adding freshness and lushness to nails and eyelids. What colours can you combine it with? With any shade of violet, with pastel shades, with grey, with brown and with nude. On the other hand, the aromatic plant that gives this shade its name is suitable for a wide range of beauty products, from perfumes to face masks. Thank you to its cleansing effect, it is ideal for facial cleansers for combination or oily skin. Its extremely cooling property makes it a powerful ally in the fight against high temperatures, which is why we also find mint in mint sweets and deodorants. Because of its cooling effect, which stimulates the elimination of toxins and tightens the skin, mint is also often used in firming and toning creams for the legs.

Here you will find a selection of beauty products that are mint green in colour or contain mint as an ingredient.