All Chiara Ferragni's looks from the first night of Sanremo 2023
From nude dresses to "cages", every outfit by Dior is an invitation to female self-determination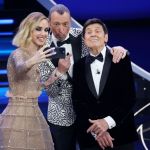 The hype surrounding Chiara Ferragni's debut as co-host at Sanremo 2023 was extremely high. People were not only curious to see the digital entrepreneur in an unprecedented version, but more importantly, what she would look like. They expected her to put herself on stage, and she did. Chiara proved her prowess as a fashion influencer by choosing a series of outfits that went instantly viral (even as memes) and caused a stir with their beauty and the feminist message behind each one. Every detail was carefully studied for months and developed with Maria Grazia Chiuri and the Dior team to highlight Ferragni's beauty and help her embody the figure of a strong, thinking woman fighting for the rights of other women and calling on them to break free from the cage of patriarchy. Everything conveys an image between glamour and empowerment and is a sophisticated viral content machine, including the new hairstyle, an updo with sculpted waves created by Pattibussa, and the intense make-up "inspired by a strong woman" by Manuele Mameli (who created it with Lancome products).
The manifesto dress
It's just after 9pm. Amadeus and Gianni Morandi announce Chiara Ferragni. The camera pans to a rising curtain and we see her from behind, the frame clinging to a white stole - a manifesto inspired by the saying "Pensati libera". A phrase inspired by a work by art duo Claire Fontaine that is "dedicated to all women who feel they can just be themselves without being judged" and also "a confession to Chiara Ferragni herself, who struggles not to be pigeonholed by the patriarchy, and also a promise she makes to herself every day as she struggles not to feel guilty about her success as a woman." Chiara then turns and, as she descends the Ariston staircase, displays the charm of a 1950s diva in a black silk corolla dress that reflects Dior's aesthetic codes and is accessorized with a pair of opera gloves. The result is both elegant and striking, and the dress becomes an instant meme on social media.
The shameless dress
After the Manifesto dress, it's now the turn of a tulle dress embroidered with nude effects, illuminated by thousands of sparkling micro-crystals and recreating Chiara's naked body with trompe l'oeil embroidery. There are three references here: a model from Dior Spring/Summer 2018 collection, the bling-bling look with the profile of a female bust selected by Madame at Sanremo 2021, and the oil painting Eva by Lucas Cranach the Elder, on display at the Uffizi Gallery in Florence. The figure of Eve, the first woman to be told that "the body causes shame, that it is only an object of desire or tempts to sin", becomes the inspiration for the message of this creation: to show the female body free from the shame that has always been imposed on women. As Chiara herself explains on Instagram, "This illusion of nudity wants to remind everyone of the right and equality of the sexes to show themselves without having to feel judged or guilty. This illusion of nudity wants to remind everyone that anyone who chooses to show themselves or feel sexy is not empowering anyone to justify men's violence or mitigate their guilt."
The dress against hate
To introduce on stage D.i.Re, the association to which she plans to donate all the fee she received as co-presenter of Sanremo 2023 and which aims to make visible and fight the phenomenon of male violence against women with more than 100 anti-violence centers and more than 60 women's shelters throughout Italy, Chiara wore a dress against hate. It was a minimal peplum, a kind of white fabric embroidered in black paint with some of the misogynistic and sexist slogans hurled at Chiara by haters about her appearance. The reason for this choice? According to Chiara, Maria Grazia Chiuri and Fabio Maria Damato, who served as stylist: "to spur everyone to get involved and remind women not to let haters get us down, because only the opinions of those who love us really count."
The Cage
Chiara's latest outfit is nicknamed "the cage", is inspired by Jana Sterbak's work and consists of a rhinestone-embroidered jersey catsuit trapped in a tulle skirt. It is a call to break the conventions imposed by patriarchy and free the new generation from the gender stereotypes that society imprisons us with. As the Instagram photos show Chiara as little Victoria, the Dior dress is also "a mother's wish to her little girl that she can finally scream Victory!".